We, at Vendasta, are committed to securely storing all the business data of our partners and users, reducing the risk of exploitation, and improving security. Therefore, we have further enhanced the security of our platform by requiring all the users (new and existing) to verify their email addresses. This will ensure that all users are genuine and have access to the email ID they provided. Any user added will automatically be verified when we send them a welcome email with a link to set their own password.
There are a few ways users can verify their email IDs:
Changing their password will verify the email as the password reset code is sent to the owner's email

Setting a password via the new user welcome email will verify the email as the welcome email is sent to the owner's email

Signing in with any federated identity provider (Google, LinkedIn, Facebook, etc) will verify the email as that proves they own the email

By sending a verification email from the banner shown on the top and clicking on the verification link from the email
All existing partners and users will be nudged towards verifying their email addresses over a period of time. If you are an existing partner and have never verified your email ID, there are a few simple steps that can be taken to complete the process:
Log in to Vendasta platform

You'll notice a "Verify your < email id >" banner with a "send email" button

Click that button and you'll receive an email with a verification link

Click on that link and continue using the platform

Congratulations! your email id is verified now.
In case, you did not receive the verification email, please verify you have the correct/active email ID on file. If not, please update your email ID, and you'll receive a verification email.
Once you have completed these steps there's nothing else required. We thank you for your continuous support!
If you are not able to log in or see an error message, please try any of the following:
check your inbox for the verification email and click the link enclosed
reset your password using the forgot password option available on the sign-in page
contact your admin to reset your password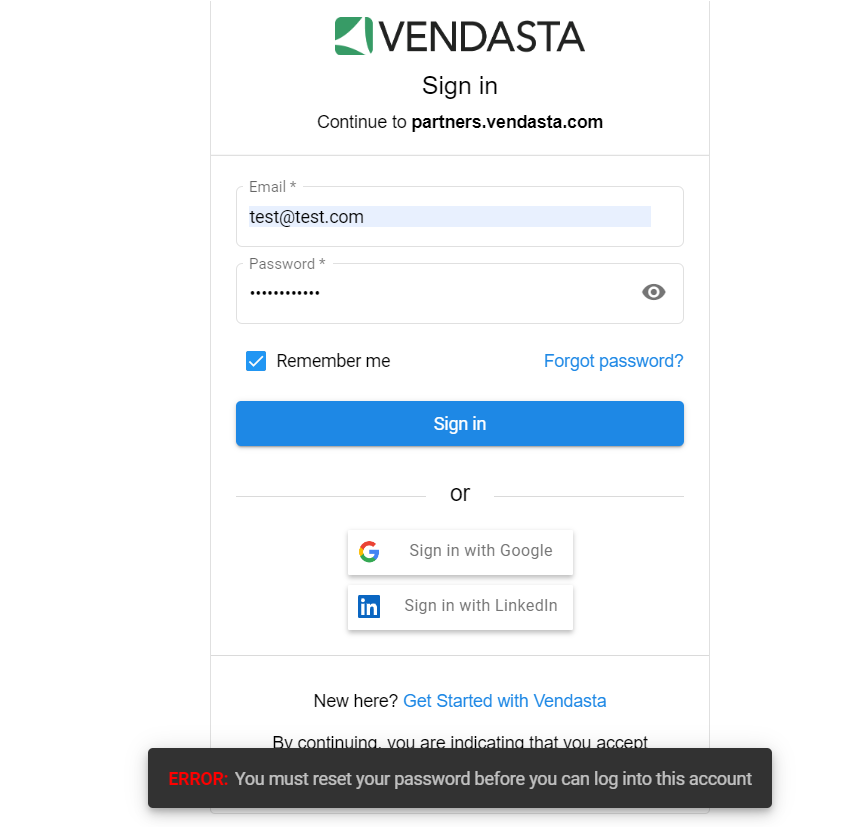 Once you click on the verification link or reset your password, you will be able to log in as usual and your email ID will be verified.


Note: Your admin or the Vendasta Support team cannot set a password for you - however, they can send an email to reset your password.