The only proposal solution integrated with your platform of choice, Proposal Builder helps you create effective proposals in minutes, giving you more time to build the relationships and results that propel your business forward. Head to Sales & Success Center to get started.
Creating Proposals Overview Video
Ready to Go Templates
Use our templates or build your own! Our template library is continuously expanding to provide proposal formats and content tailored to specific applications, solution types, and business verticals.
Additionally, any page or widget can be saved to your content library for future use, meaning you'll have customized templates and components at your fingertips in no time.
Auto-population of Sender and Recipient Details
Select a recipient with a single click, and watch their details and yours auto-populate. Want to add more variables to further personalize your proposals? Click the variables icon to find more options.
Saving a proposal in PDF
You can also generate a proposal in PDF to be able to send to your client for review.
Click on the 3 vertical dots on top right corner and click Generate PDF.
It will take a minute or two for the PDF to generate. Once ready, you will receive an email and an in-app notification with a link to download your PDF!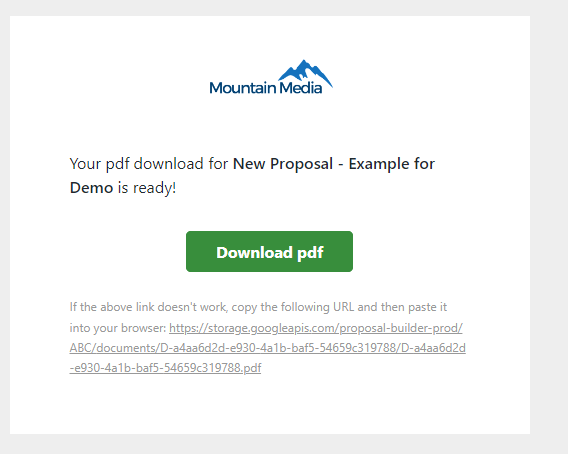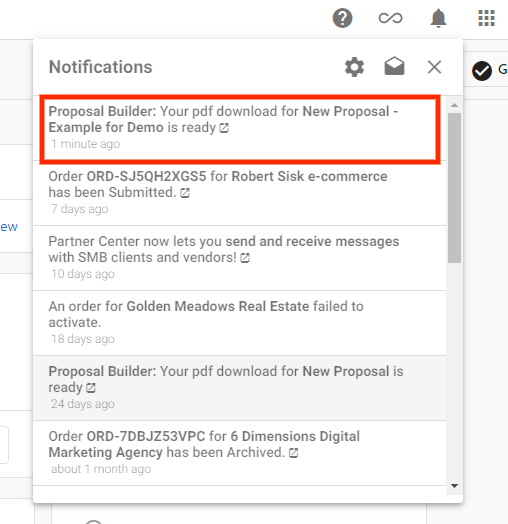 Your Marketplace Products & Pricing, Integrated
Add products and packages from directly from your Marketplace to save time and ensure accuracy. Available information includes:
| | |
| --- | --- |
| Retail pricing: Display the selected products with their retail pricing set in your Marketplace. Edit prices right within the proposal to provide custom rates. | |
| Flexible display: Edit everything from quantity and pricing to the brief description below product names, and show or hide the products included within a package to present your solutions as desired | |
| Marketing content: Let the pros explain the value of the recommended solutions for you by pulling in templated marketing content from CalendarHero, and other best-in-class solutions in Vendasta's Marketplace.  | |
The integration of Marketplace with Proposal Builder helps to maintain a single source of truth for product details. Update your offering in one place - your Marketplace - and rest assured the details put forth in every proposal will be accurate.
Internal Review Management
Ideal for large or growing teams where review by a manager or administrator might be required prior to sending a proposal to a prospect, Proposal Builder's review management functionality makes it easy for authors and reviewers alike to collaborate on a proposal.
When a proposal is ready, simply select "Internal Review" when pressing "Send for" and select the desired reviewer from the dropdown presented. The reviewer will be notified by email, and be able to view, edit, and approve for sending to the prospect. 
Send and Track with Ease
Before sending a proposal, view the order draft to fill in form details ahead of time and make it easier for your prospect to complete the purchase.
| | | |
| --- | --- | --- |
| | | |
| View order | Fill in the remaining form fields | Send the proposal |
Know when your prospect is ready to commit with Proposal Builder's view counter, activity timeline, and approval notification.
See when and how many times a proposal has been viewed 

Get notified when comments have been left on the proposal

When a proposal has been approved

In-app Communication
Proposal Builder's comment window makes it easy for your prospects to ask questions or request revisions as they review a proposal. Real-time notifications of any new comments ensure you never miss an opportunity to impress future clients with a prompt response.
Want to collaborate on a proposal with your colleagues? Use the "Private" chat to collect feedback and discuss details with your teammates separately from the correspondence with your prospect in the "Public" chat.
Direct Conversion to Approved Order
An approved proposal is an approved order. Once products are added to a proposal's pricing table, an order is drafted. The order remains in draft status and updates automatically to reflect any changes to products in the proposal right up to the moment it is approved by the recipient. Once approved, you have an approved order in hand, ready for you to bill and fulfill!
| | | |
| --- | --- | --- |
| | | |
| Recipient receives proposal | Views and approves proposal | Agrees to purchase |
Ready to create a proposal? Head over to your Sales & Success Center.
Have questions? Check out our FAQ section for more information.