You may find it necessary to restrict a Partner Center user's access to certain accounts or features when you have more than one market. You may wish to do so for the following reasons:
A team member may not need access to the full list of actions

Keep certain client information private

Simplify the team member experience
Accessing the permissions screen
From Partner Center > Administration > My Team, find the user you wish to edit permissions for.

Click [kebab] Edit member. To see the full list of user permissions, the user must be an admin. If the admin box is checked, you can then click "show more permissions" to see the full list of editable permissions.
What does each user permission mean?
1. Can view and edit Automations [This permission provides access to all areas of the platform]
By turning off, the Automations tab on the left-hand navigation is not shown

By turning on, the Automations tab on the left-hand navigation is shown and the user can view, manage, and edit all automation
2. Access to Dashboard
By turning off, the Home button on the left-hand navigation disappears. Upon logging in, the user will land on the next tab down after the dashboard tab would be.

By turning on, the user gets full access to the Home tab (dashboard) in Partner Center
3. NEW: Access to company billing reports
When turned on, the user has access to

My billing

Financial documents

Reports

My plan

Billing pricing

When turned off, the user will not have access to the above areas
4. NEW: Access to retail billing reports
When turned on, the user has access to

Vendasta Payments

Account billing

Tax rates

Billing tab (includes invoices, payment, and payouts)

Account details page tabs and buttons

Invoices

Payments

Billing settings tab on the account details page

When turned off, the user will not have access to the above areas
5. Able to customize the platform
By turning off, the user no longer has access to the Customize link under Partner Center > Administration

By turning on, the Customize link and everything within it is available to the user
6. Can view and edit company profile
By turning off, the user no longer has access to the Company Profile link under Partner Center > Administration

By turning on, the Company Profile link and everything within it is available to the user
7. Can access Marketplace
By turning off, the Marketplace tab in the left-hand navigation is not shown

By turning on, the Marketplace tab on the left-hand navigation is shown and

the user can access and manage Marketplace
8. Can manage accounts and users
By turning off, 'Users' and 'Accounts' under the Business App tab in the left-hand navigation is not shown

By turning on, 'Users' and 'Accounts' under the Business App tab in the left-hand navigation is shown
9. Can manage marketing
By turning off, the Marketing tab in the left-hand navigation is not shown

By turning on, the Marketing tab on the left-hand navigation is shown
10. Can manage sales
By turning off, the Sales tab in the left-hand navigation is not shown

By turning on, the Sales tab on the left-hand navigation is shown and the user can access the Sales & Success Center
11. Can manage Task Manager
By turning off, the Tasks tab in the left-hand navigation is not shown

By turning on, the Tasks tab on the left-hand navigation is shown and the user can access Task Manager
12. Can create and manage admins
By turning off, the user no longer has access to the My Team link under Partner Center > Administration

By turning on, the My Team link and everything within it is available to the user
13. Can manage orders
By turning off, the orders button under the Sales tab in the left-hand navigation is hidden (Partner Center only)

By turning on, the orders button under the sales tab can be accessed by the user
Screenshots
Location for user permissions: view and edit company profile, create and manage admins, able to customize the platform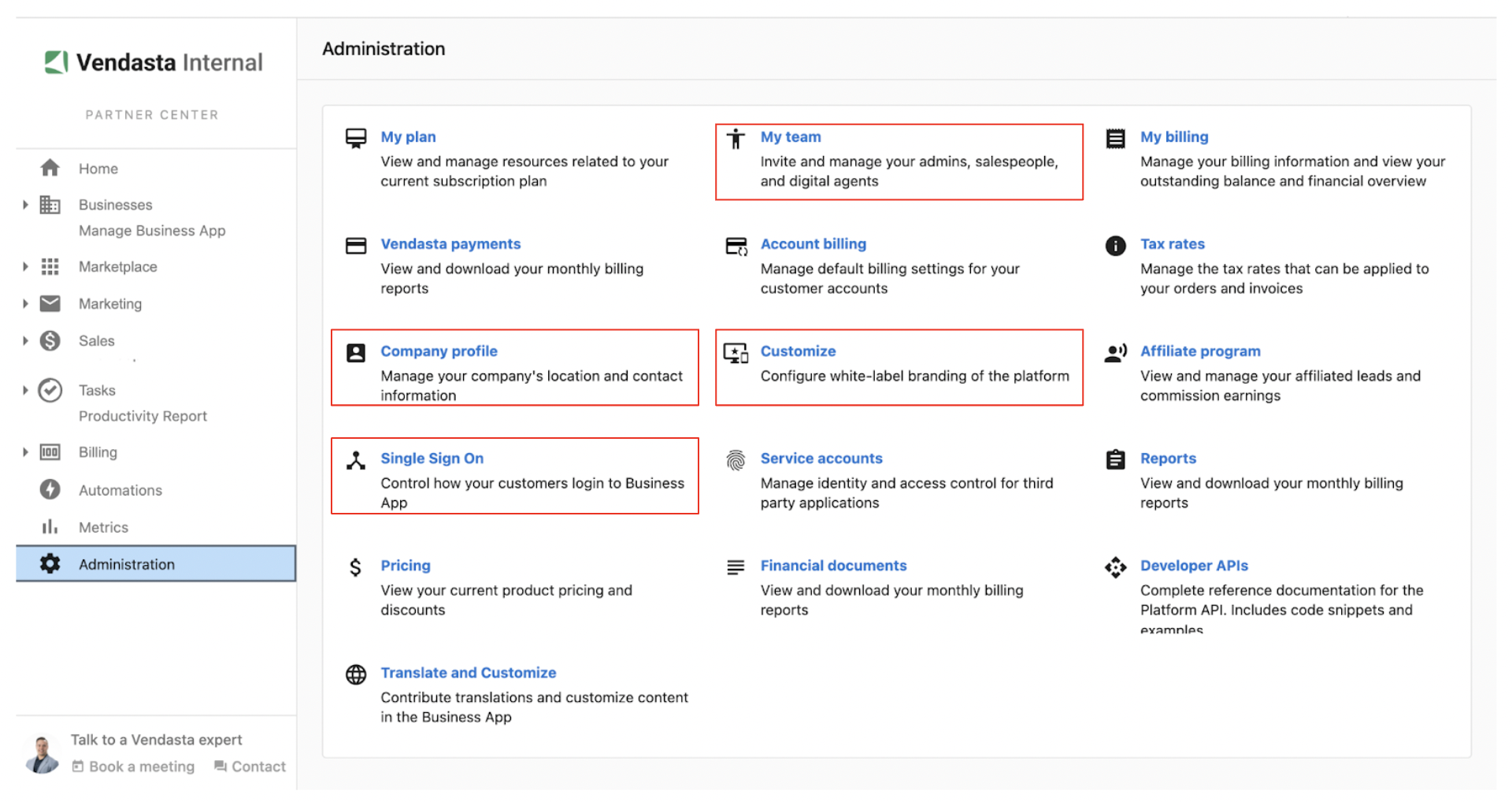 Location for: Access to company billing reports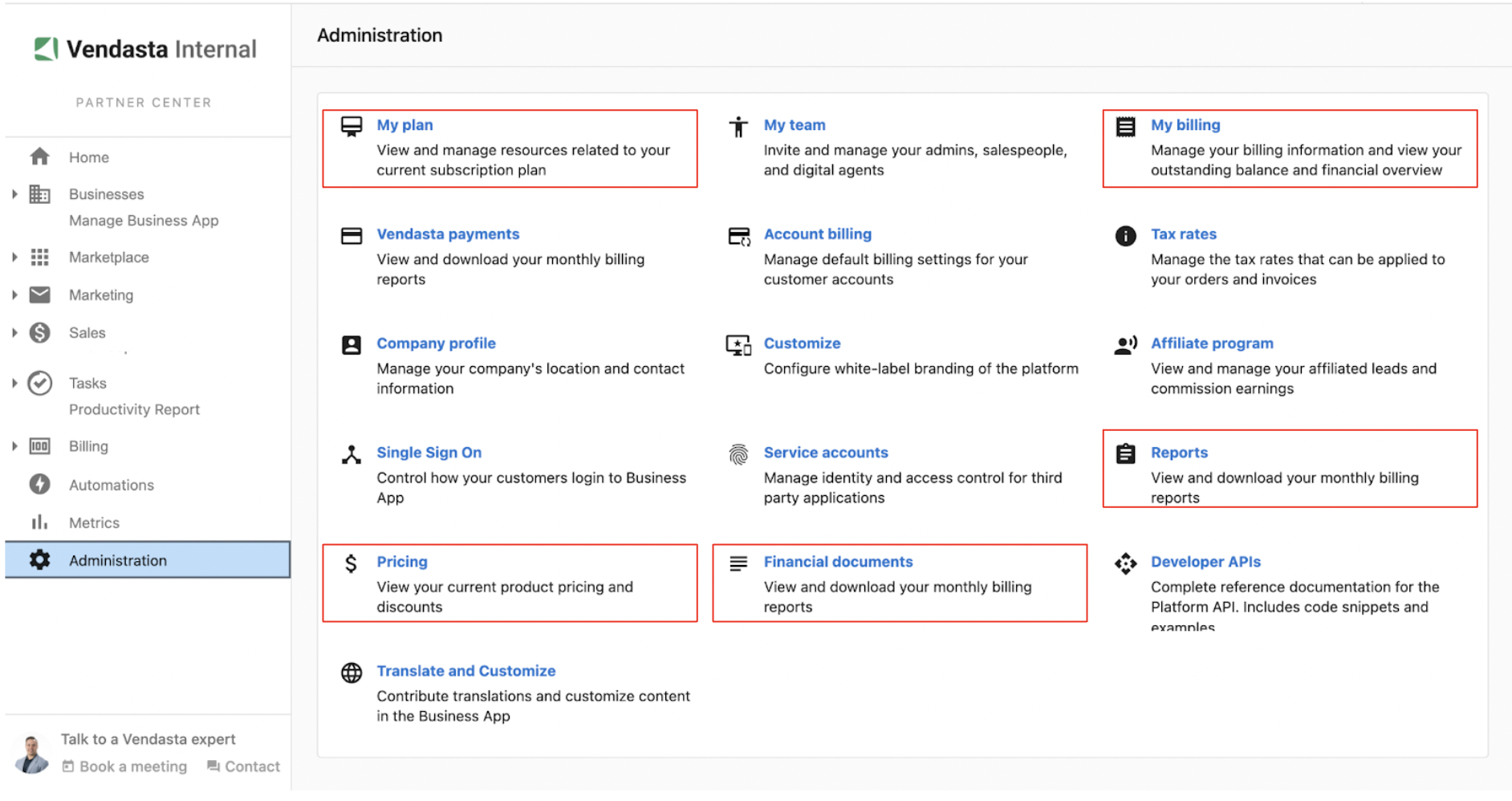 Location for: Access to retail billing reports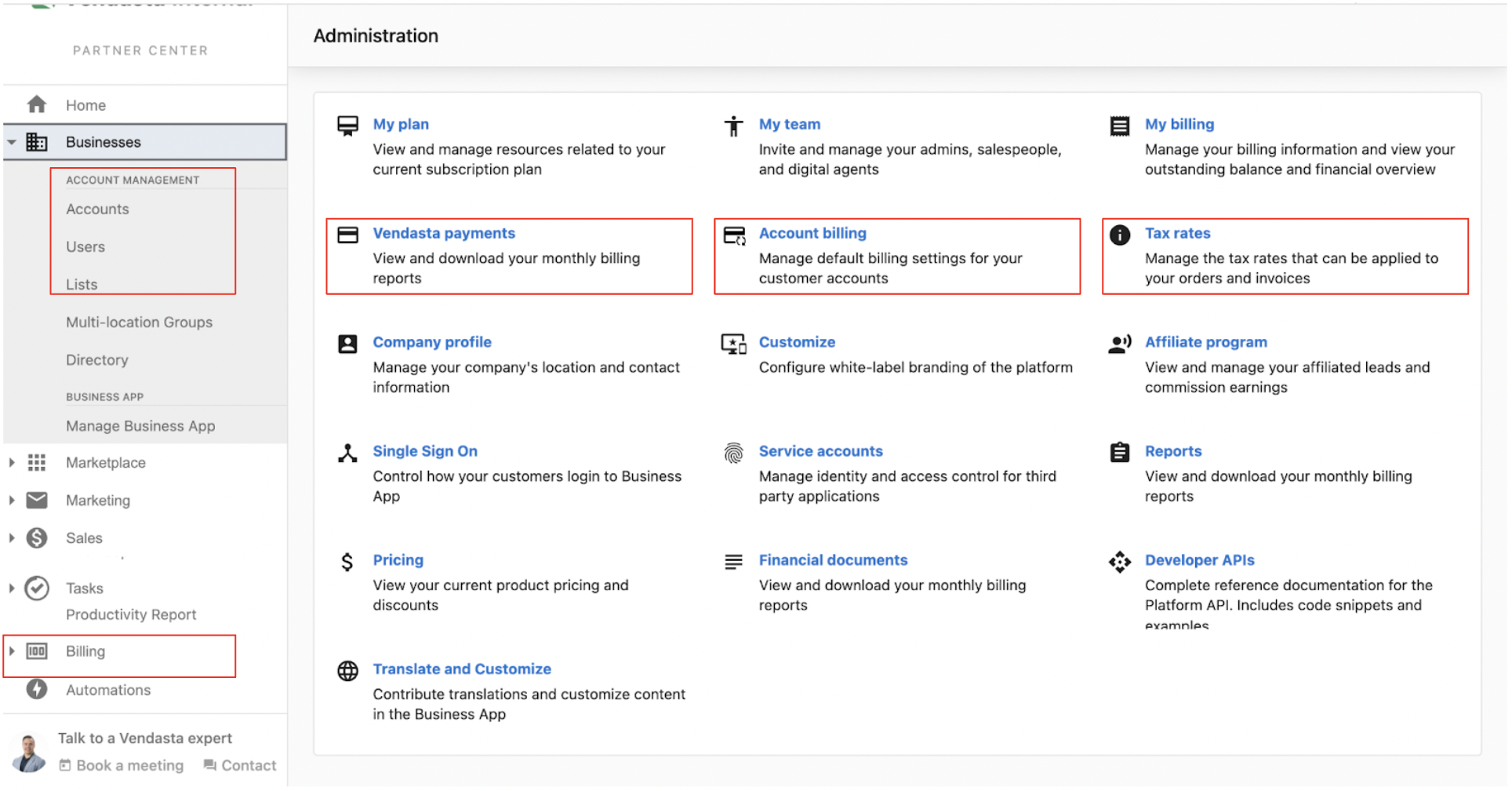 Location: all left-hand navigation permissions