Under Task Manager > Settings, fulfillment agents will find a list of global settings. These settings are global for all accounts, except for the "User Settings" which are set only for the logged-in user.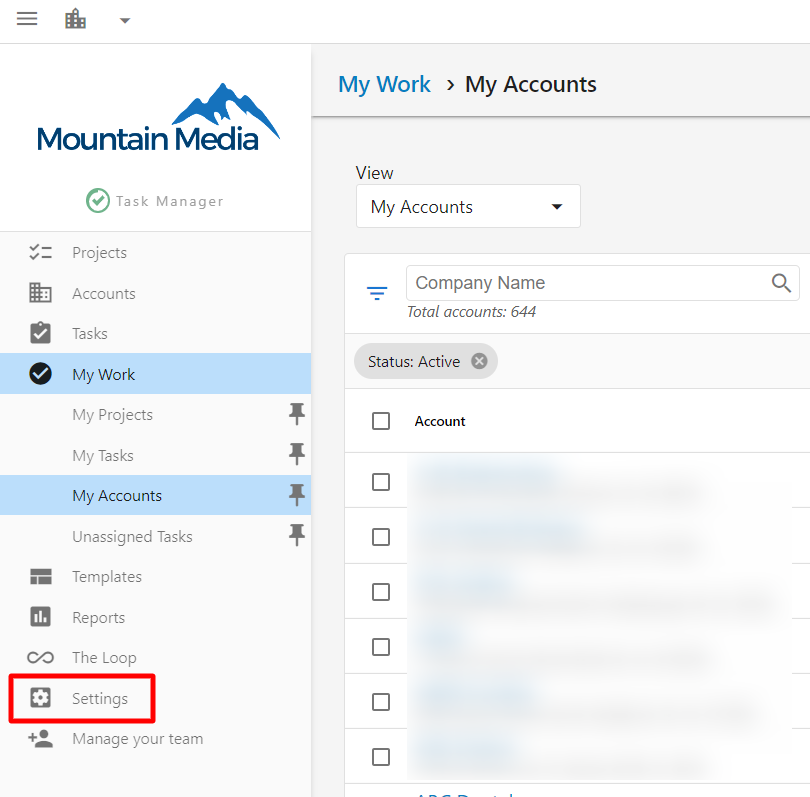 Monitored Sources

This section allows you to toggle which sources automatically generate tasks. Checked sources will generate a task when reviews are published or listing errors are detected. These settings are global across all accounts.

Task Generation
Task generation allows you to customize what types of tasks will automatically generate. These settings are global across all accounts, however, when changes are made, they will only affect new accounts. If an individual account's Task Generation settings differ, they will need to be adjusted at the account level under Account > Settings > Task Generation.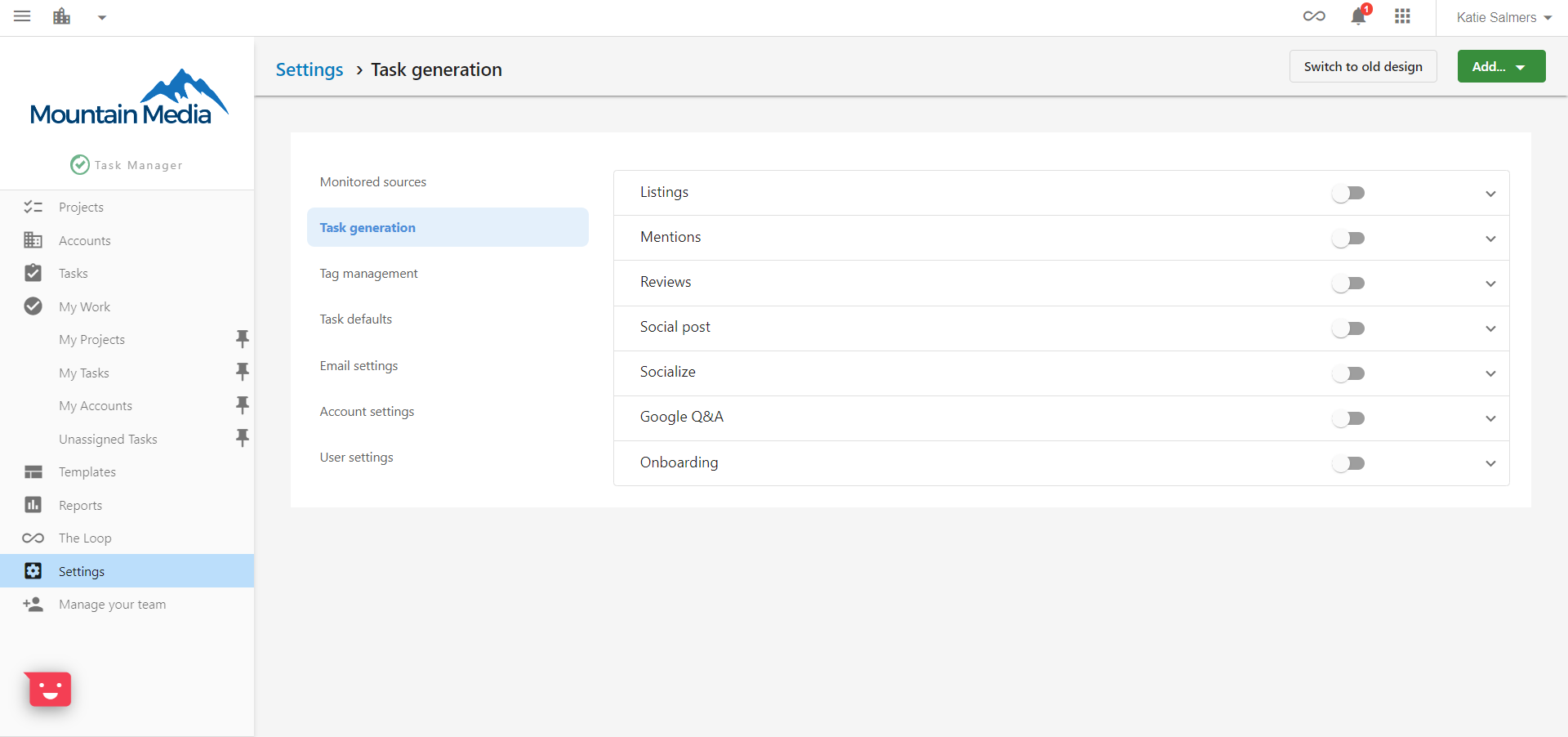 Listings
This will generate tasks when selected listing sources are found with errors or are missing entirely.
Mentions
This will generate tasks based on the Mention settings in the account's Reputation Management product. This includes mentions from sources such as blogs, news media, and social media. (These do not include reviews).
Reviews
This will generate tasks for newly posted reviews that require responses. Fulfillment agents will then be able to draft responses, request response approval from the business owner, and post responses on the review sources.
Social post
This section will allow you to generate tasks for your fulfillment team to create Social Posts for your clients. It allows you to choose the days and amount of posts required.
Socialize
This will generate a task for your team to interact or respond to comments made by customers on a business's social media posts. Reputation Management is a required product for these tasks to populate.
Google Q&A
Creates a task when a question has been left on Google Q&A. These questions appear on a business's Google Knowledge Graph.
Onboarding
When a new account is added in Task Manager, an Onboarding task will automatically generate to encourage the fulfillment agents to reach out and onboard the new customer.


Tag Management
Tag management allows you to set customized tags for easier search and sorting of tasks and projects.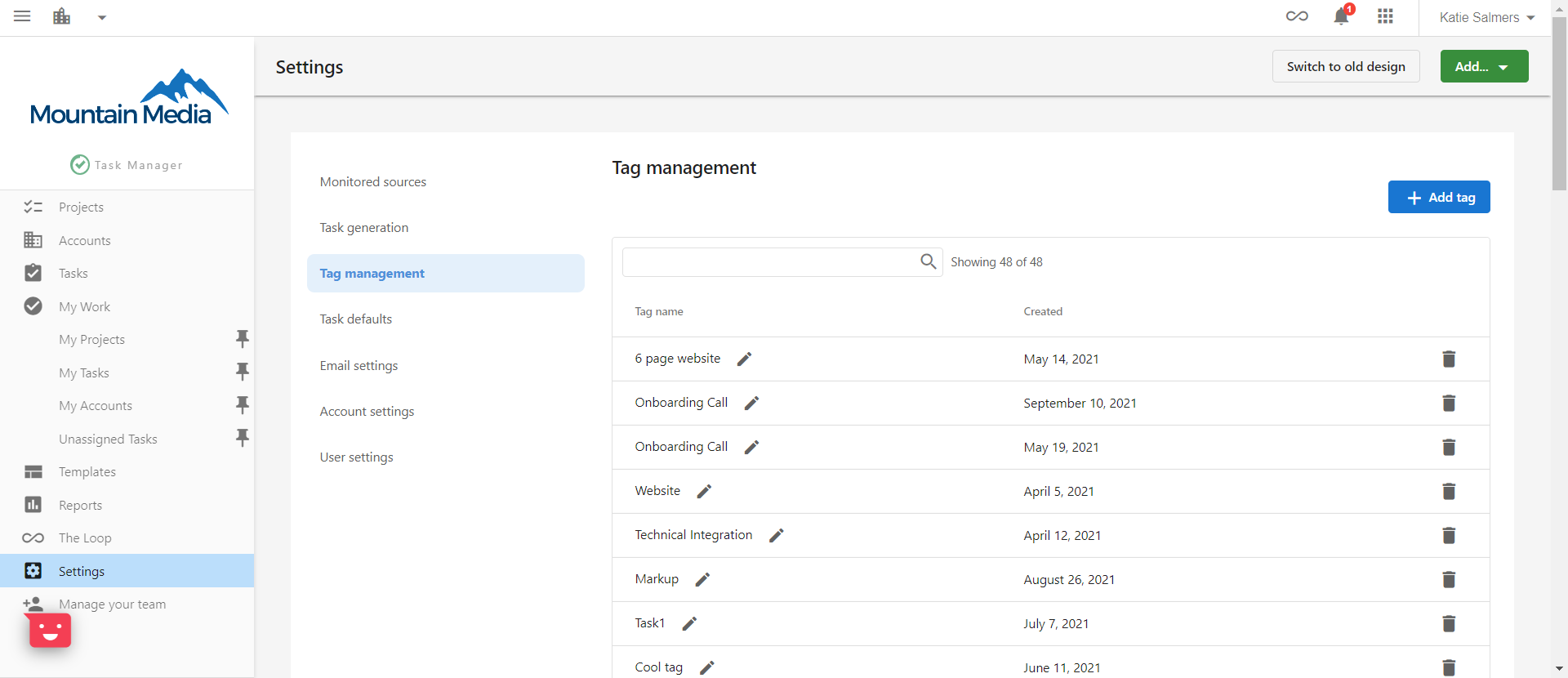 Task Defaults
Task Default settings allow you to customize the task statuses. You can add, edit, and remove statuses as they best fit your workflow. You can also edit the default number of days to complete a task in Task due dates.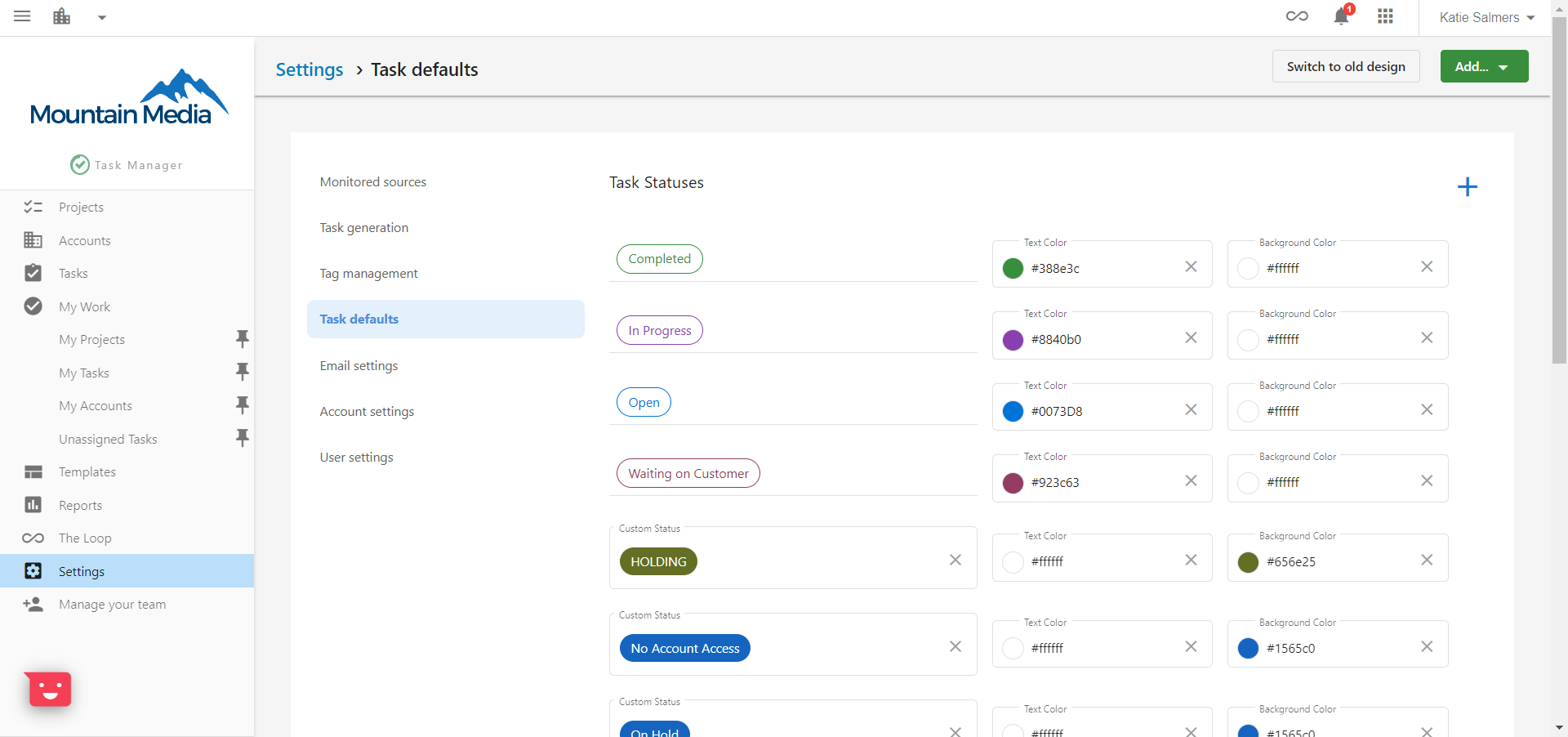 Email Settings
Allows you to set a reply-to email address for responses to auto-generated emails. (Review Response tasks, Client Review tasks, etc.)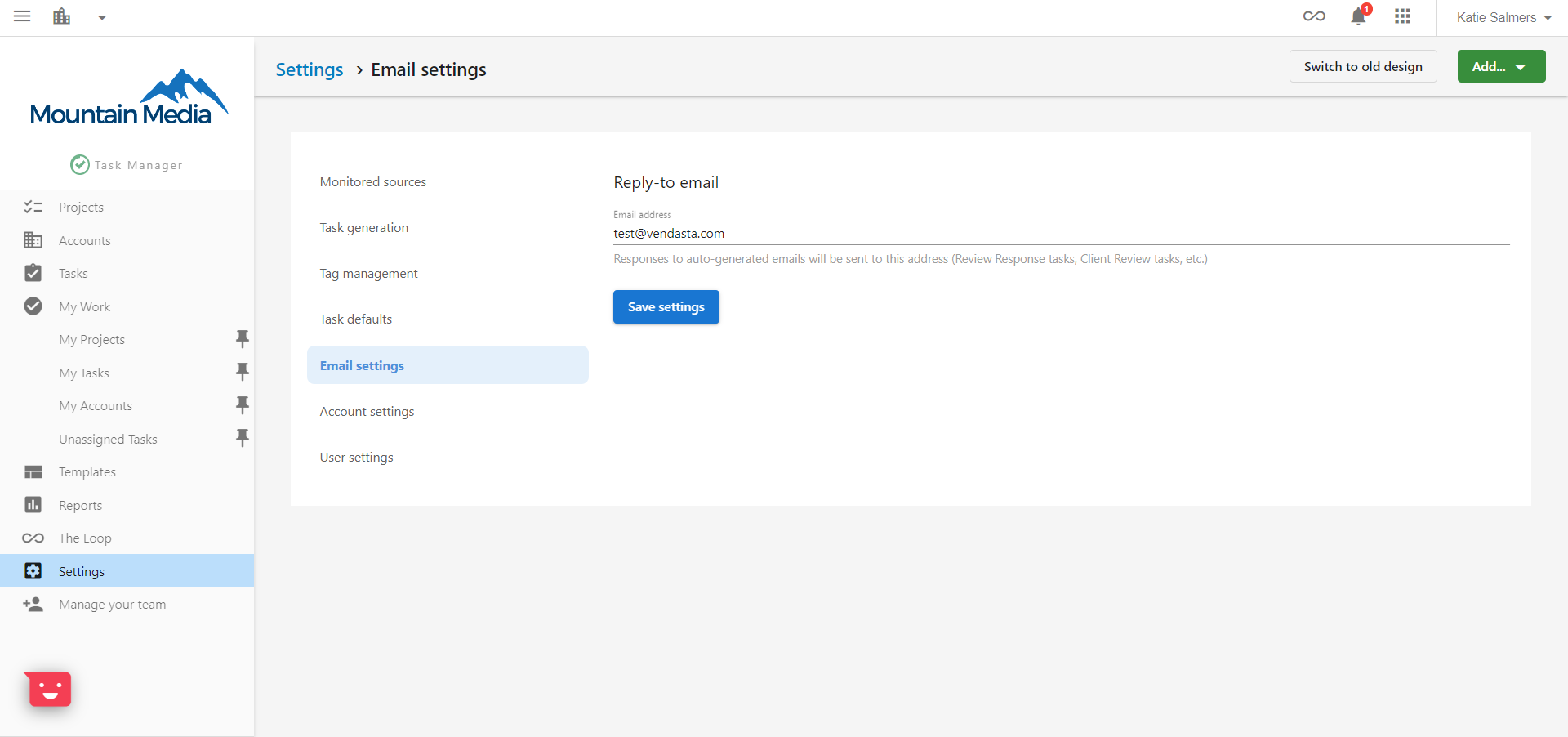 Account Settings
Starting accounts in a non-active state means no tasks will be automatically created for that account until manually set to active. For example, if you wanted to wait to automatically generate review tasks until the client had been onboarded, you could start accounts in a paused state, then move them to active when you're ready.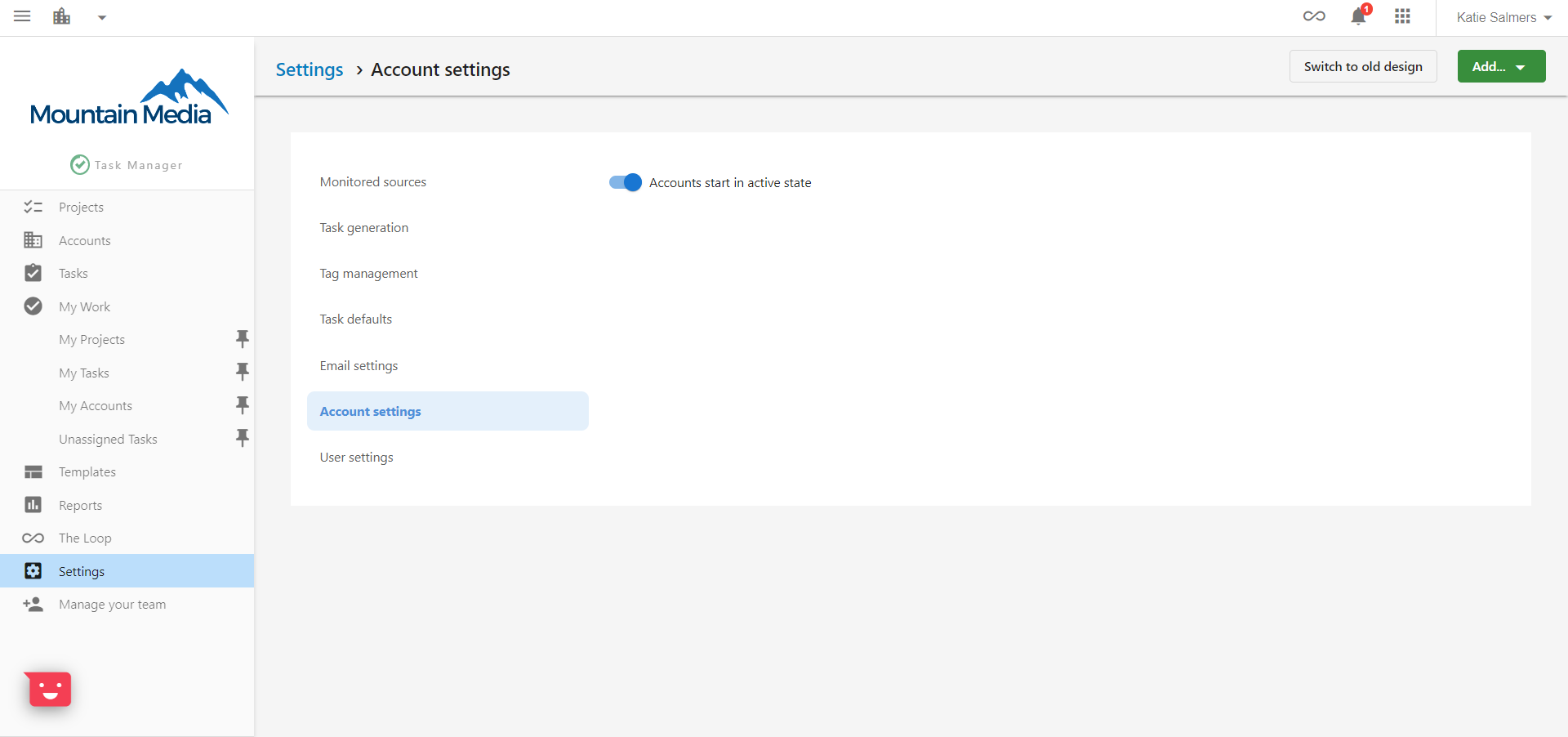 User settings
This setting is only for the currently signed-in Task Manager user. A fulfillment agent can set their personal meeting integration links and a profile picture that will be used across Task Manager. The profile photo will appear instead of their initials in a circle when they are assigned to tasks, projects, and accounts.