Partner Center Admins access the platform via partners.vendasta.com. It's best practice to add all your agency's key decision-makers, managers, and fulfillment teams as Admins.
Note: Be sure to check how many Team Member seats the PID has available, as they may be charged for additional seats if they go over their limit of free seats.
You can restrict Admins from certain actions in Partner Center, such as creating additional Admins, accessing billing reports, customizing the platform, customizing the marketplace, and managing salespeople.
To create a Partner Center Admin:
Go to Partner Center > Administration > My Team.
Click Invite Team Member in the upper right corner of the screen.

If you do not see the Invite Team Member button, you do not possess permission to create new Admins. Please contact a separate Admin at your organization with these permissions, or have them contact our Support On-Demand team.

Complete the Create Admin User form:

Enter the Admin's first name, last name, and email.
Select the permissions you want to grant the Admin. Learn more
Select which Markets the Admin should have access to.

Once you've confirmed that the information entered is correct, click Send.
Once a new Partner Center Admin is created, they will receive a Welcome Email at the email address you entered while creating the team member. The Welcome Email contains a link that allows the Admin to set their password and sign in to Partner Center.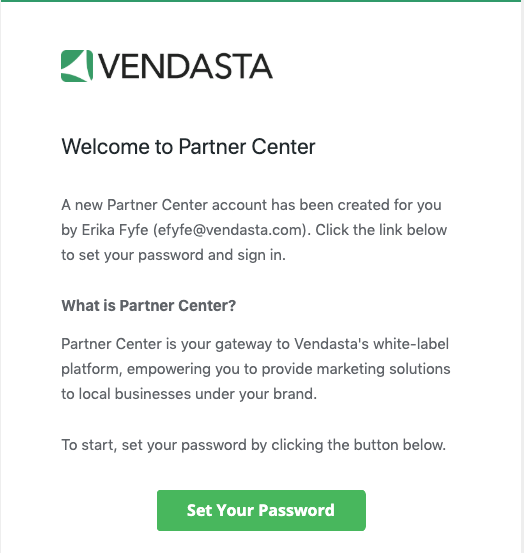 Walkthrough Video