Business listings are essential to succeed in today's online marketplace with 73% of people losing trust in a brand when their listings are incorrect. This causes customers to blame the business when their information is wrong, damaging their reputation.
That's why it's important for businesses to understand how they currently rate when it comes to their business listings, and Snapshot Report is great at surfacing these insights. 
How is the listings grade calculated?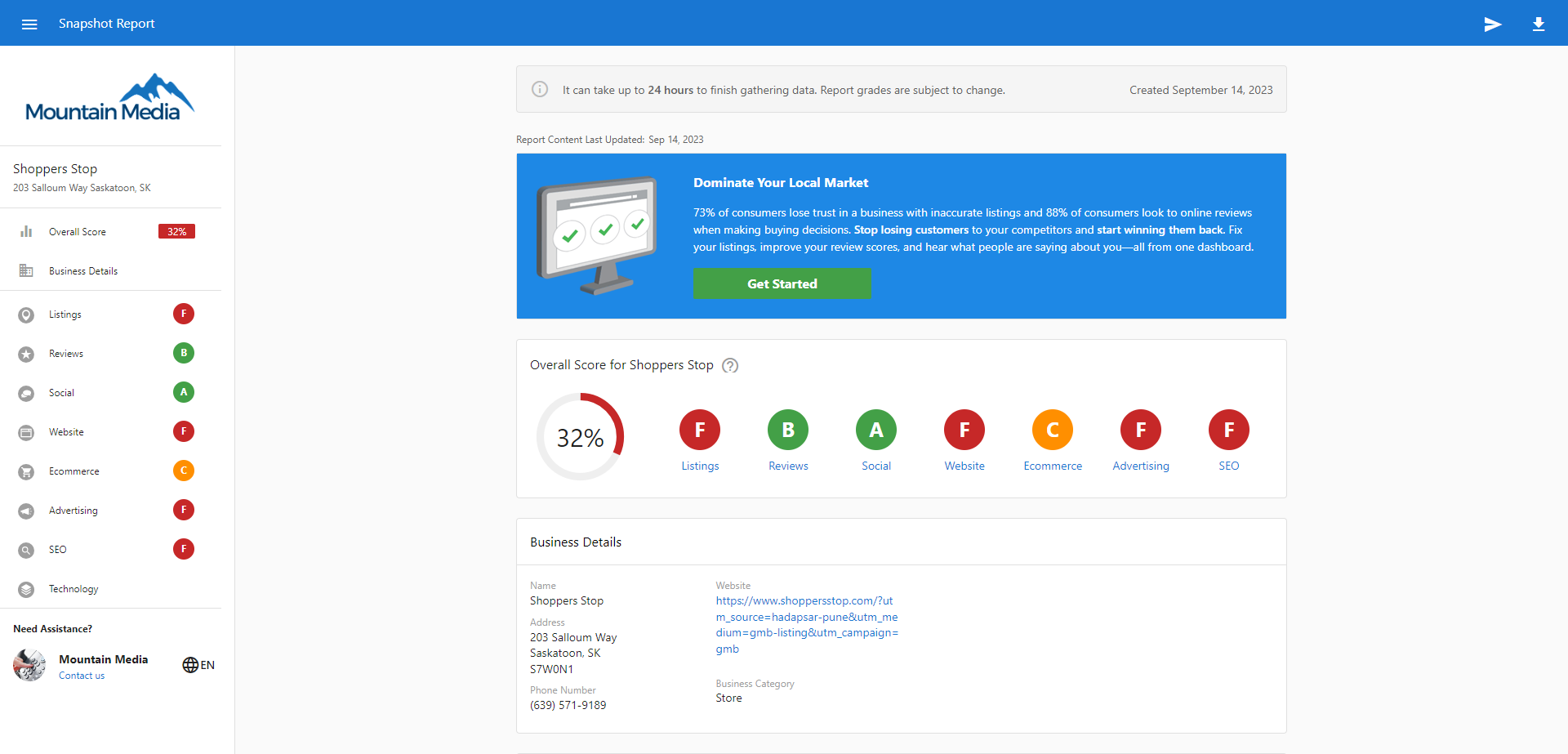 The Listings grade is a reflection of your business's online listings. Each listing source is assigned a score based on how popular the site is. For example, having an accurate listing on a popular site like Google will have a greater influence on your Listing Score. The Listings grade is determined by the percentile range your business falls into when compared to other businesses in the same industry.
Example: The business above is classified as a restaurant, thus the report is comparing it to similarly classified businesses. As the formula prior to August 1st  for scoring the Listings section considers anything within the top 20% of businesses to be an A, this section is graded as an A. 
NOTE: If the grade isn't populating, it could be due to your geographic region settings. If you're located in a country where we may not have enough industry data to compare on a country, state, or city level, the grade won't show. To fix this you'll need to enable performance metrics on a world level. To check this, go to Administration > Customize > General Product Settings > Geographic Region for Performance Metrics, enable World, and click Save.
Listing Section Breakdown
Listing Presence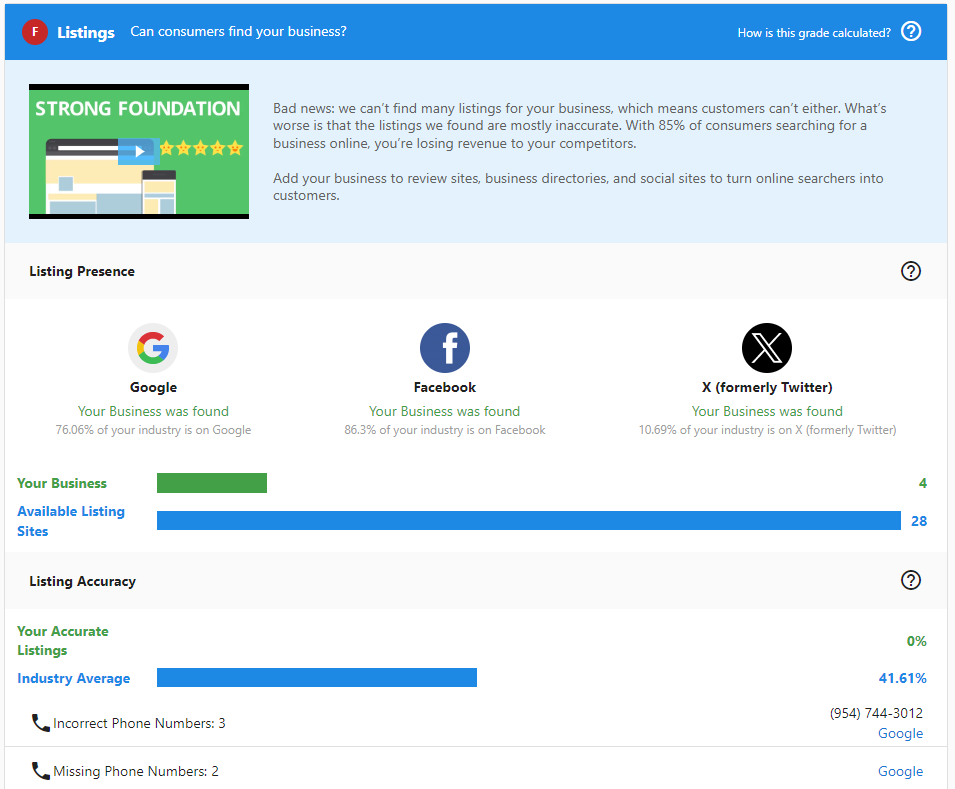 This is where we calculate how many available listing sites there are for that particular business category, and how many of those sites display your client's business information. We also highlight the four primary listing sites for any business: Google, Facebook, and X. 
When creating or refreshing a snapshot report, Reputation Management Trial will only pull a customer's LinkedIn page if it is connected to the account in the platform.
Therefore during snapshot generation, mostly LinkedIn will appear to be "not found" in the listing section since accounts are not connected in most cases while prospecting.
Listing Accuracy

Here is where we calculate the accuracy of those found listings from the previous section. This is based on the business details entered when creating the account. We also compare their accuracy against their industry average to show them how well they're doing against the competition. Finally, we provide a summary of how many times their information was found to be incorrect, broken out by: Incorrect phone number, missing phone number, and missing website link. 
Listing Details

This section allows you to give your clients a detailed breakdown of each listing site they could be found on along with what information is accurate, missing, or incorrect. They also have the option of clicking View Listing to see the actual listing itself. This can be a great way to help your clients visualize just how much work is involved in keeping their business information updated. 
Data Provider Accuracy

There are three major data providers that distribute your clients' information to hundreds of online sources: Data Axle, Neustar/Localeze, and Foursquare. The sources that gather information from these data providers include review sites, directories, social sites, search engines, GPS services, and more. It's crucial that your clients are found on these data providers and that their business details are accurate, or else they may send incorrect information to thousands of potential customers.