Ecommerce is big. Really big.
The Snapshot Report has been used for years to highlight areas businesses struggle with. As eCommerce continues to grow, there's an opportunity to help in that space.
This section of the Snapshot Report is centered around eCommerce. This helps in two distinct ways:
Salespeople will have better insight into prospects' eCommerce presence, helping them identify solutions to the prospects' biggest challenges
Business owners will understand where they need to improve, allowing them to look for solutions to those issues.
What's included?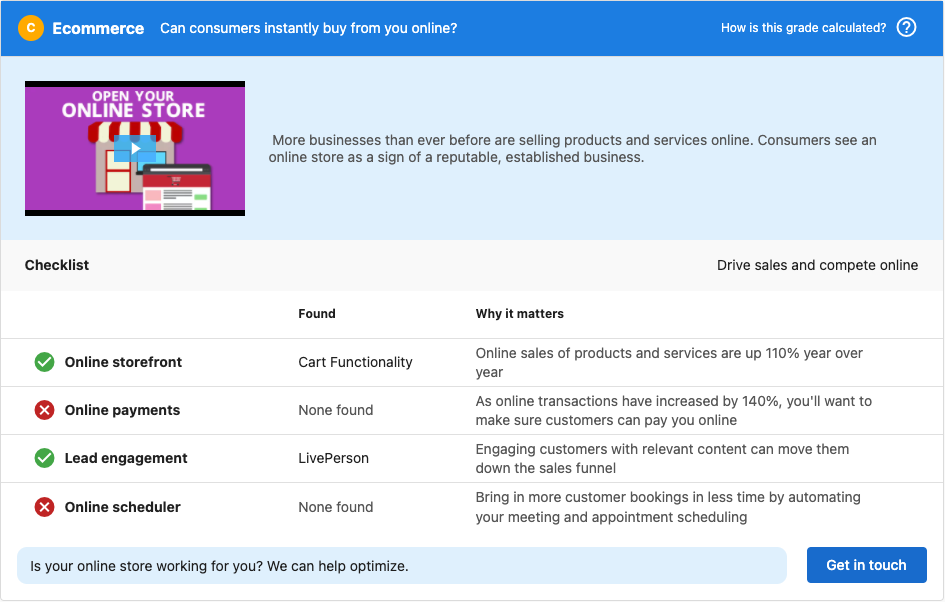 This section breaks down 4 important categories that are relevant when it comes to eCommerce:
Online storefront - This checks to see if your prospect has the ability to sell their products/services through their website using a recognized commerce platform.
Online payments - This checks if the prospect is able to accept transactions through their site using recognized payment software.
Lead engagement - This scan's the prospects' website to see if it's set up to properly engage customers with relevant content, encouraging them to either move down the sales funnel or purchase from them again.
Online scheduler - This crawls their website to see if they've included any scheduling software that makes it easy for customers to book an appointment with the business.
NOTE: While we do cover the main solution providers in each market, due to this being a growing and dynamic industry there may be smaller or custom platforms that our report does not recognize. This will cause it to show that nothing can be found on the prospects' website. If you do happen to notice a specific platform missing, don't hesitate to reach out to us so we can add it to our list.
Is this section automatically enabled?
This section will only be enabled automatically if you're currently running with the default configuration. If you've customized the report in any way, we want to make sure to respect those changes, which means you'll have to manually enable this section for it to begin showing up within your Snapshot Reports.
NOTE: This will only affect new Snapshot Reports. If you have already created one for your prospect, you will need to refresh it for this section to appear. If you've customized the layout, you will need to make sure you enable it first before refreshing the report.
Still have questions? Check out our FAQs on the eCommerce section of the Snapshot Report!