Advertising Intelligence provides live reporting and analysis for your client's digital ad campaigns. Advertising Intelligence provides big-picture campaign analysis, so it is easy to understand your client's ad performance and grow their ROI.
To access Advertising Intelligence:
Navigate to Partner Center > Businesses > select the Account you are looking for. In the Products section select Advertising Intelligence.
Once in the product, head to the Settings page
Select the connected campaign to enter your mark-up fees.
Who is Advertising Intelligence for?
DIY users: Small businesses that run digital ad campaigns themselves. These businesses are looking for a way to make sense of their ad data and pinpoint their unique ROI.
DIFM & DIWM users: Agencies who run digital ad campaigns on behalf of their clients. These agencies are looking for a way to save time and provide a real ROI in order to justify ad spend and secure campaign renewals.
What does it do?
Advertising Intelligence is live with Google, Facebook, LocalAds, and Microsoft ad reporting and analysis. It gives you a real advertising ROI for your clients.
High-level stats: Google / Facebook / LocalAds / Microsoft Ads
Clicks

Impressions

Conversions

Client

Spend

Average Client Cost-Per-Click

Click through Rate
ROI calculator
Using Average Sale and Close Rate data collected from each unique user, and Conversions and Spend from Google / Facebook / LocalAds / Microsoft Ads, a precise ROI can be calculated for your campaigns.
Detailed campaign table
Pull in individual Google

/ Facebook / Microsoft/ LocalAds

campaigns and compare ROI,

Client

Spend, Conversions, Clicks, Impressions, CTR, Average CPC, and Start/End Dates.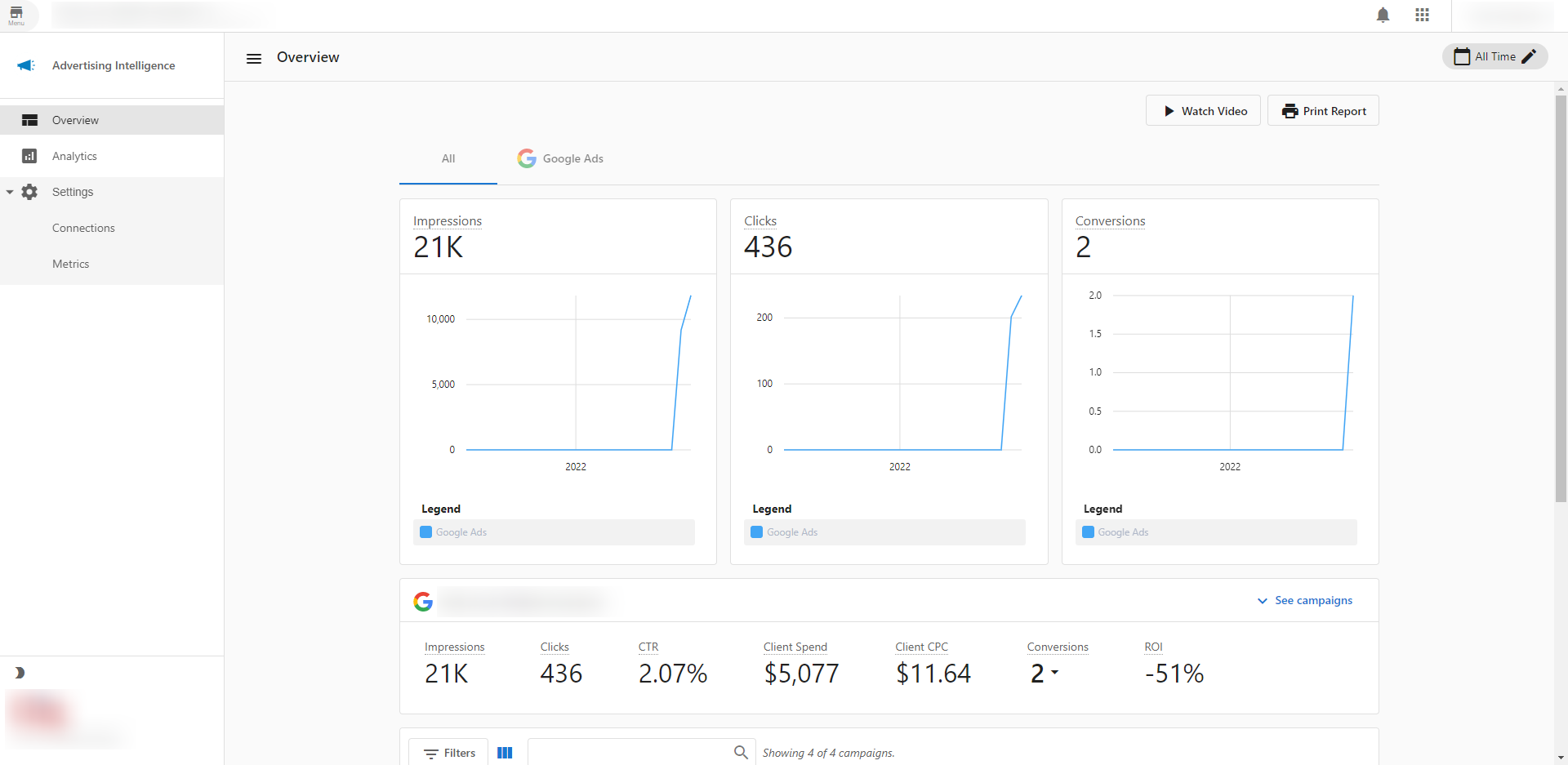 Integration with the Executive Report
View reporting for advertising, along with your other products, right in Business App. Now you and your clients can see what's happening across all digital marketing channels in one place.
Management mark-up fees (For Partners)
Add your monthly management fee to your client's ad spend. These markup fees will be added to all cost-related metrics (e.g. Average CPC, ROI, Total Spend, etc.) and be reflected in your clients' reporting.