Beginning on August 31, 2023, in an effort to reduce spam messages being sent and received, major mobile carriers like T-Mobile and AT&T will begin blocking messages being delivered from unregistered businesses in the United States.
US-based businesses using Customer Voice or Reputation Management Premium must register their business to send text messages confidentially without getting blocked by the major carriers. This update applies to any account that has Customer Voice or Reputation Management Premium and has purchased an SMS Add-on Package and plan to send review requests via text messages. 
Why is registration important?
A2P 10DLC refers to a system in the United States that allows businesses to send Application-to-Person (A2P) messaging via standard 10-digit long code (10DLC) phone numbers.
In an effort to create a more trusted and regulated ecosystem, A2P 10DLC requires businesses to register their business information and campaign information with the carriers. For clients, registration is required for those using Inbox (through Business App), Customer Voice or Reputation Management Premium to send notifications, marketing/promotional messages, and review requests. 
How does a business register?
In Customer Voice - 
When logging into Customer Voice, users will find two notification banners. The first can be clicked to get to the form.

The second banner is seen at the top of the SMS Configuration page. This provides a status update and more information.

Step 1: Log into the Customer Voice dashboard and go to "Settings" to find the link to the SMS Configuration form shown below. If you do not see this link, then an SMS add-on package has not been purchased for this account.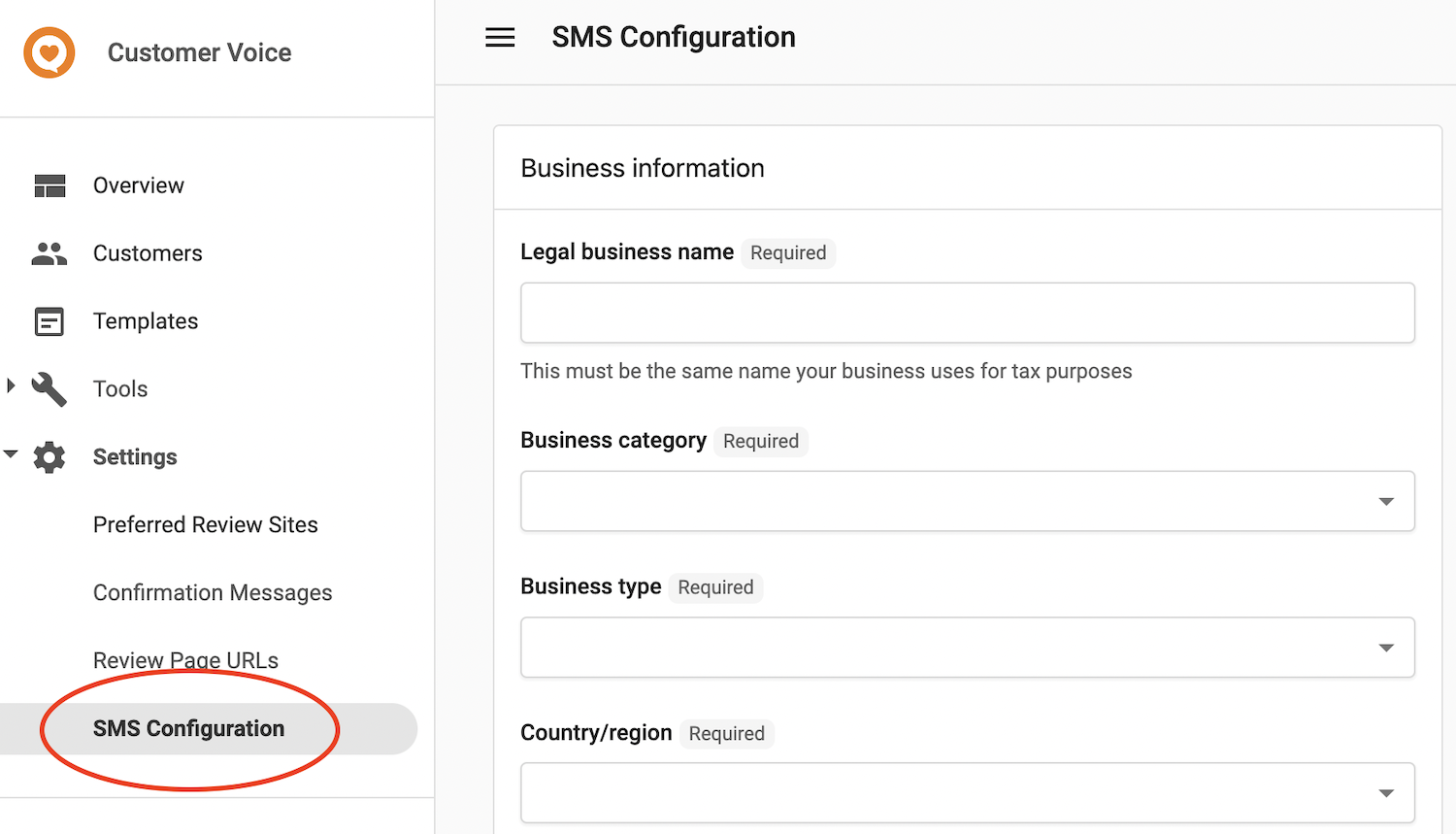 Step 2: Fill in all the fields in the form: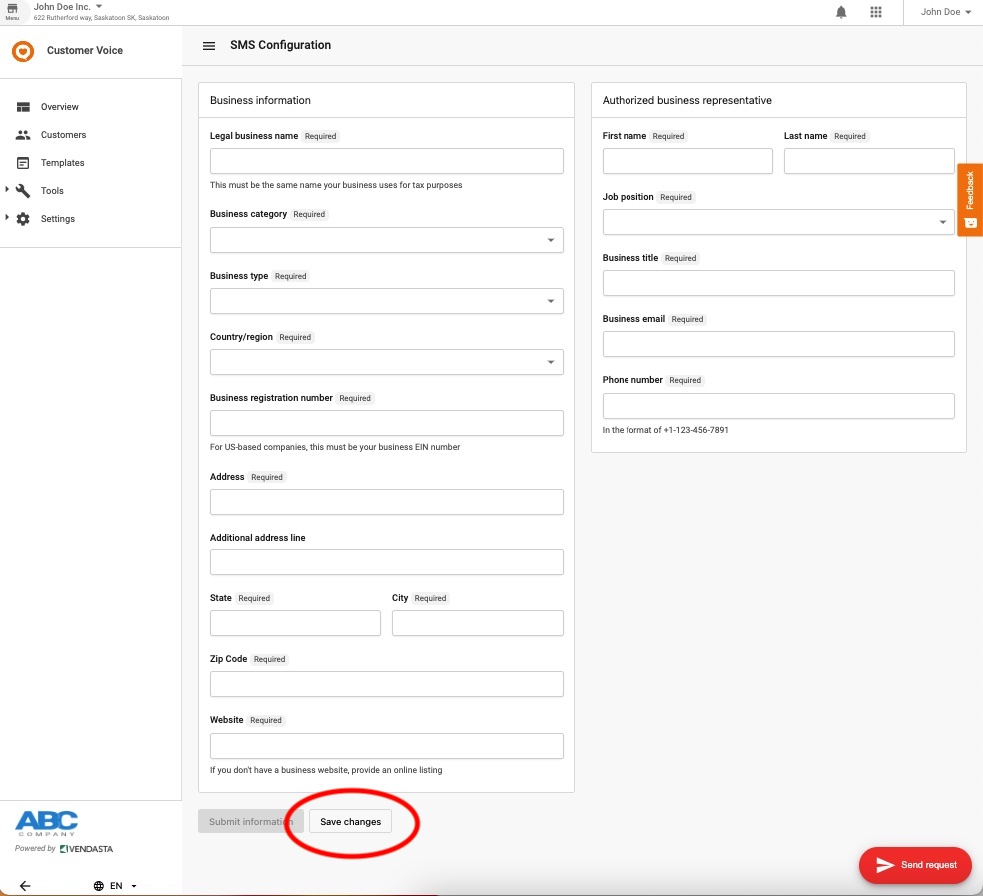 Step 3: Choose to submit the information by clicking the "submit information" button or save the information by clicking the "save changes" button. Please note that once the information is submitted the form will be locked.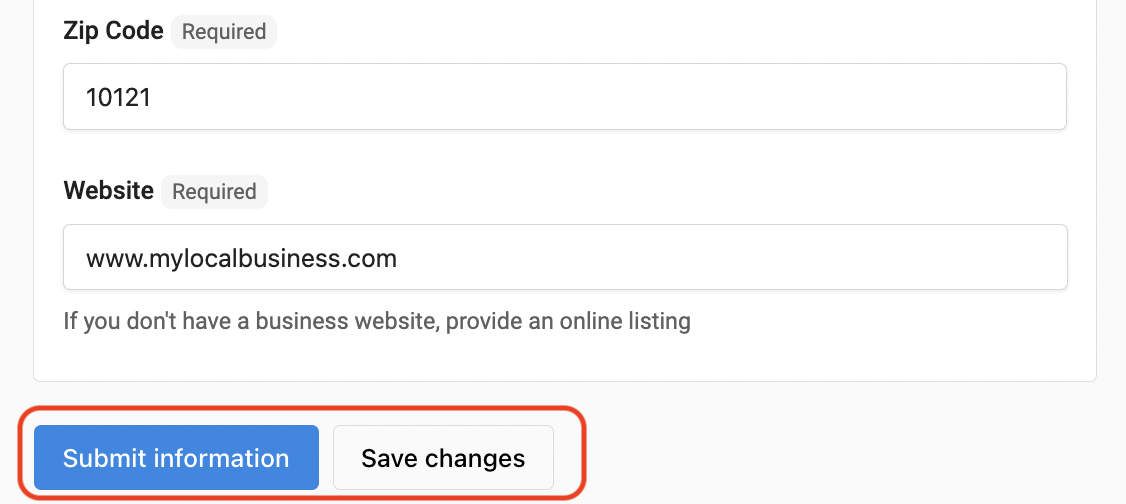 In Reputation Management Premium - 
Step 1: Navigate to Settings > SMS COnfiguration > Follow the same steps as in Customer Voice to fill out the form.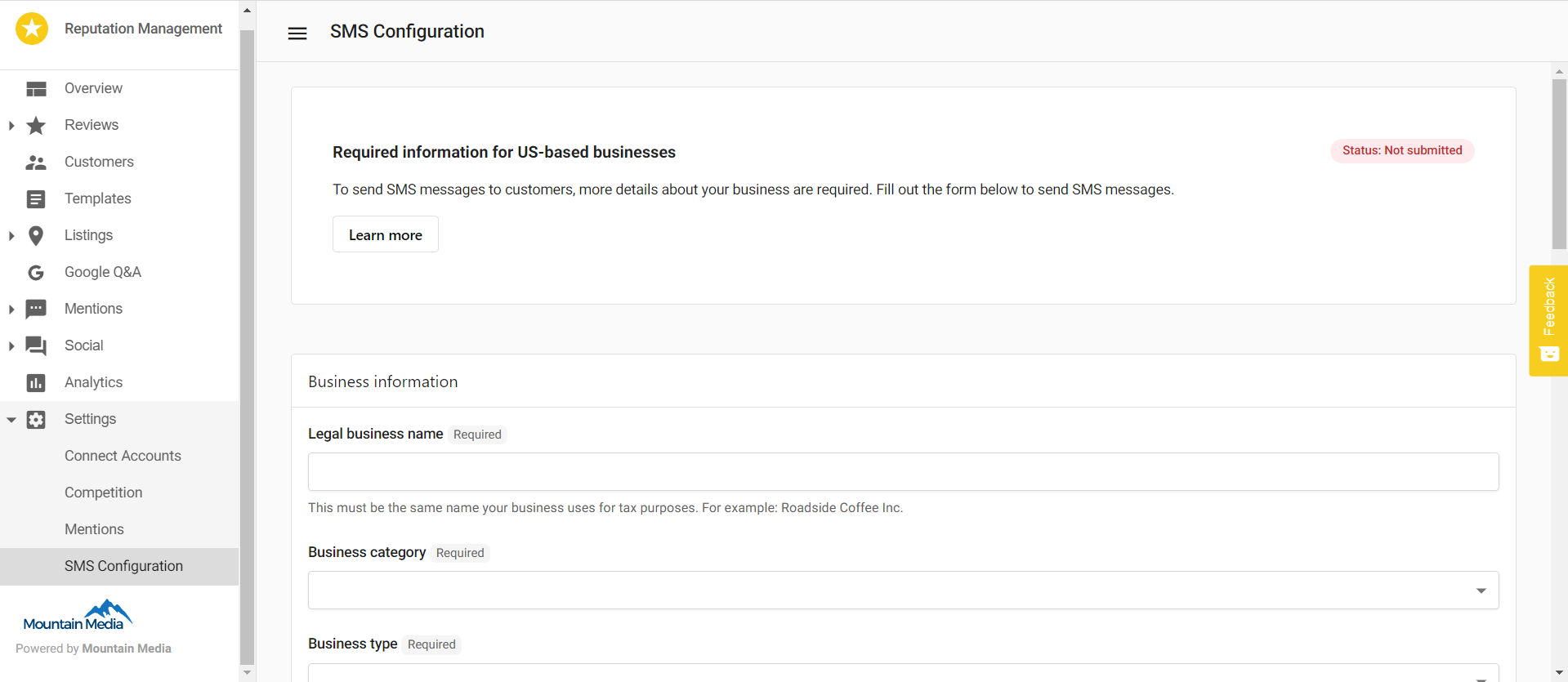 FAQ:
Q: How long does registration take?
A: Once the form has been submitted, registration through third-party verification can take anywhere from one week, up to one month. A third-party agency is being used by telecom carriers in the United States to verify business registration data with government databases.
Q: How can I ensure my application is approved?
A: The most common reason for a business's application being rejected is because the information entered in the form does not match the information the IRS has for the business, associated with the EIN / Tax ID. Make sure the business information submitted matches exactly the same information associated with the EIN.
Q: How does a business find their business registration number a.k.a. EIN / Tax ID?
A: An EIN is a nine-digit number the IRS uses to identify a business for tax purposes, much like a Social Security number identifies an individual business. In the US, the Internal Revenue Service (IRS) issues a CP 575 EIN Confirmation Letter to confirm the unique Employer Identification Number (EIN) issued to a new business. The EIN provided in a CP 575 letter is required to file your company's taxes, open a business bank account, and apply for a business credit card, loan, or payroll processing. If a business does not know their EIN, they can apply for an EIN by submitting IRS Form SS-4 online.
Q: Can sole-proprietor businesses without an EIN register for SMS?
A: Yes, through Vendasta Support. To register a sole-proprietor business, please collect all the business's information on the form (except for the EIN number) and reach to Vendasta support to perform a manual registration.
Q: The business has already registered via Inbox. Do they need to register again?
A: Yes, for now. In the future, we will be automatically registering businesses for both products when they fill out the form the first time. Right now, you will need to submit the form a second time, but you will see your data that was previously entered is saved for the second submission.
Q: The business is located outside of the United States. Do they need to register?
A: Registration is strictly for businesses that wish to send messages to US numbers, through US telecom carriers. Some businesses may be located outside of the United States, but wish to send SMS messages to US numbers. This is not possible currently, but will be in the future.