Vendasta's Marketing Services allows you to outsource your fulfillment work to our team of digital experts. By leveraging our team and our processes, you're able to deliver great websites, ad campaigns, and blog content with industry-leading turnaround times and ensure that your clients have optimized listing presence, a managed reputation, and engaged customers through social networks. Each service is executed based on industry best practices and tried-and-true processes to ensure fast delivery of quality results. Follow this guide to help you get started in using Marketing Services and ensure you're set up for success!
Getting Started Checklist
Learn about the services and expectations
Find product details and assets in the Marketplace
Go to Partner Center > Marketplace > Discover Products
Click More filters
Check the box for Marketing Services
Click into any service you want to learn more about
Read through product information, find FAQs, and check out add-ons
Click Screenshots & Files to find marketing images, sales decks, and expectation brochures
Click the Start Selling button in the top right corner to add to your store
Familiarize yourself with the service expectations
Expectation brochures are unbranded documents provided by Marketing Services that break down the timelines, details, and deliverables that you and your customers can expect after ordering. You can also check out this article to get a high-level overview and reference for expectations across all product lines.
You can find expectation brochures inside of the platform:
Go to Partner Center > Marketplace > Discover Products
Go to the product page for the Marketing Services product for which you want more expectation information
Click Screenshots & Files
Look for a file with Expectation in the title
Or you can access them on the Marketing Services unbranded website and click Expectation Brochures.
Review the fulfillment forms
An important step in ensuring a quick turnaround for your fulfillment is providing a completed fulfillment form. The information in these forms help the Marketing Services teams to complete the ordered services in alignment with what you and your customer wants.
If you follow through the activation workflow of a product (seen in the section below), you will be able to see the fulfillment form information in advance. You can also find downloadable pdf versions of all of the fulfillment form details here. Check for the downloads at the bottom of the page like you see here.

Order the product(s)
Ordering Marketing Services products follows a similar workflow as activating any product in the platform. The key difference is that Marketing Services will require additional information after the product has been activated in order to successfully fulfill the service in line with what you and your customers require.
Go to Partner Center > Businesses > Accounts > Click on the account for which you want to order/activate products
Click Activate Products
Select the package(s) or product(s) you wish to activate

You may be prompted to activate additional products that are needed to fulfill services (eg. Social Marketing is needed for our team to post as part of our social posting services)

Click Proceed to Next Step
Review and fill in any contact information or other order information required
Click Next
Review and Purchase
Website Services
Website services in particular require a lot of information about a business in order to successfully create their website and web copy with expedient turnaround times. Check out our website ordering guide and the video below for more info.
Digital Advertising Services
When ordering Digital Ads, you will be required to choose the ad spend for the campaign. You will be prompted to do this between steps 4 and 5 in the workflow noted above. To learn more about Digital Ad billing and ordering, check out this article and the video below.
Attend the pre-launch call (if applicable)
Almost all services include a pre-launch call, often called an onboarding call, to welcome the customer, go through a content questionnaire, and set expectations for the services. Check out this article to see which services receive a pre-launch call.
Our team will choose a time for this call and send an invite to any contacts listed at the time of order (these contacts will also be given a link to reschedule if necessary as part of the invite). The call will happen over a Google meet, the agent from Marketing Services typically does this with camera off to preserve white label, and will use the call to align the customer expectations and needs from the service with fulfillment processes.
This call is also important to ensure that we have all of the necessary access and connections that we need. Learn more about connecting accounts in Business App.
Track the progress of fulfillment
You, your sales team, and your customers can keep an eye on the progress of fulfillment for the services you have ordered.
The easiest way to access this information is through Business App > Projects.

There is also a Projects card found in the account under Partner Center > Businesses > Accounts.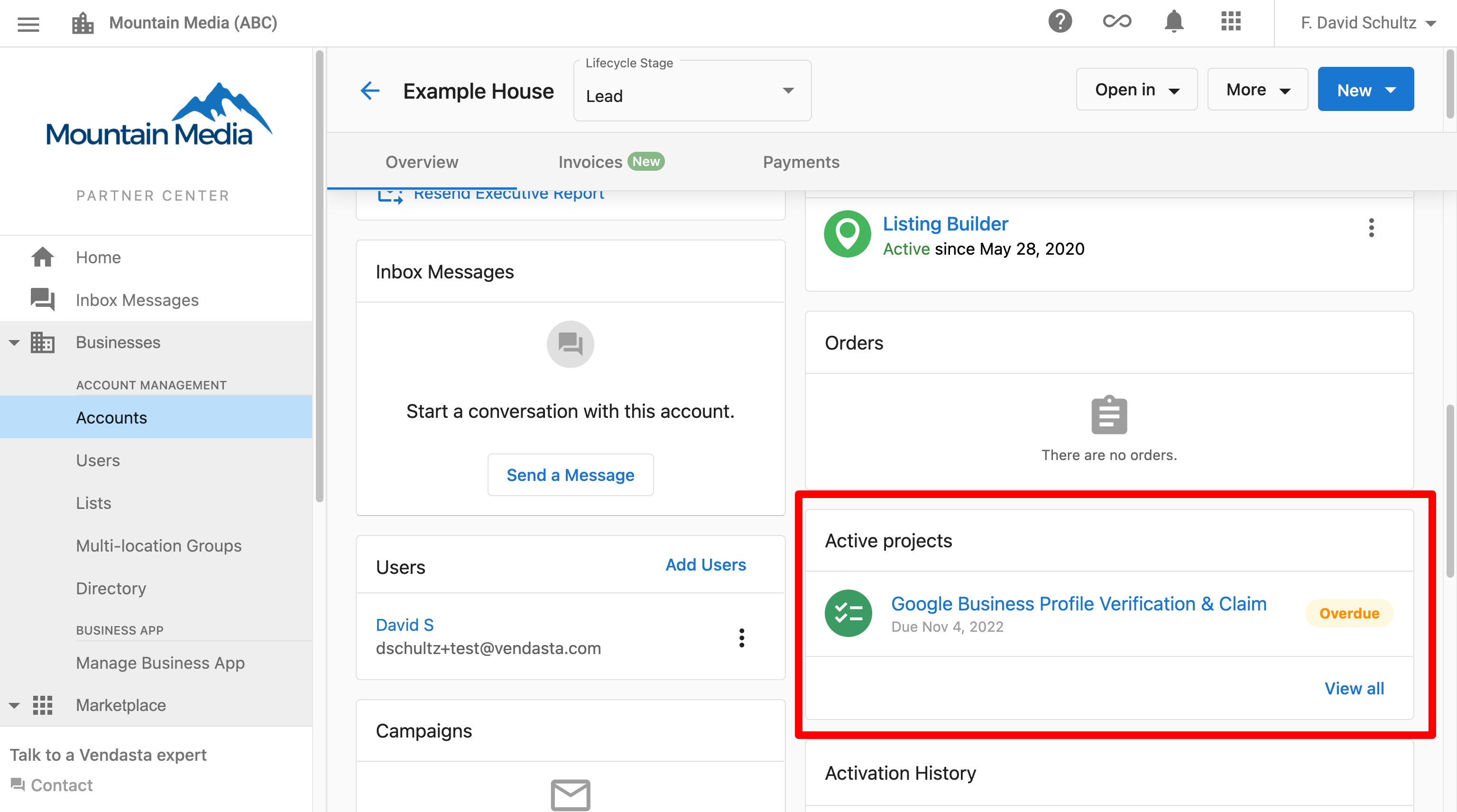 Your salespeople can view this information on the account page under Fulfillment projects.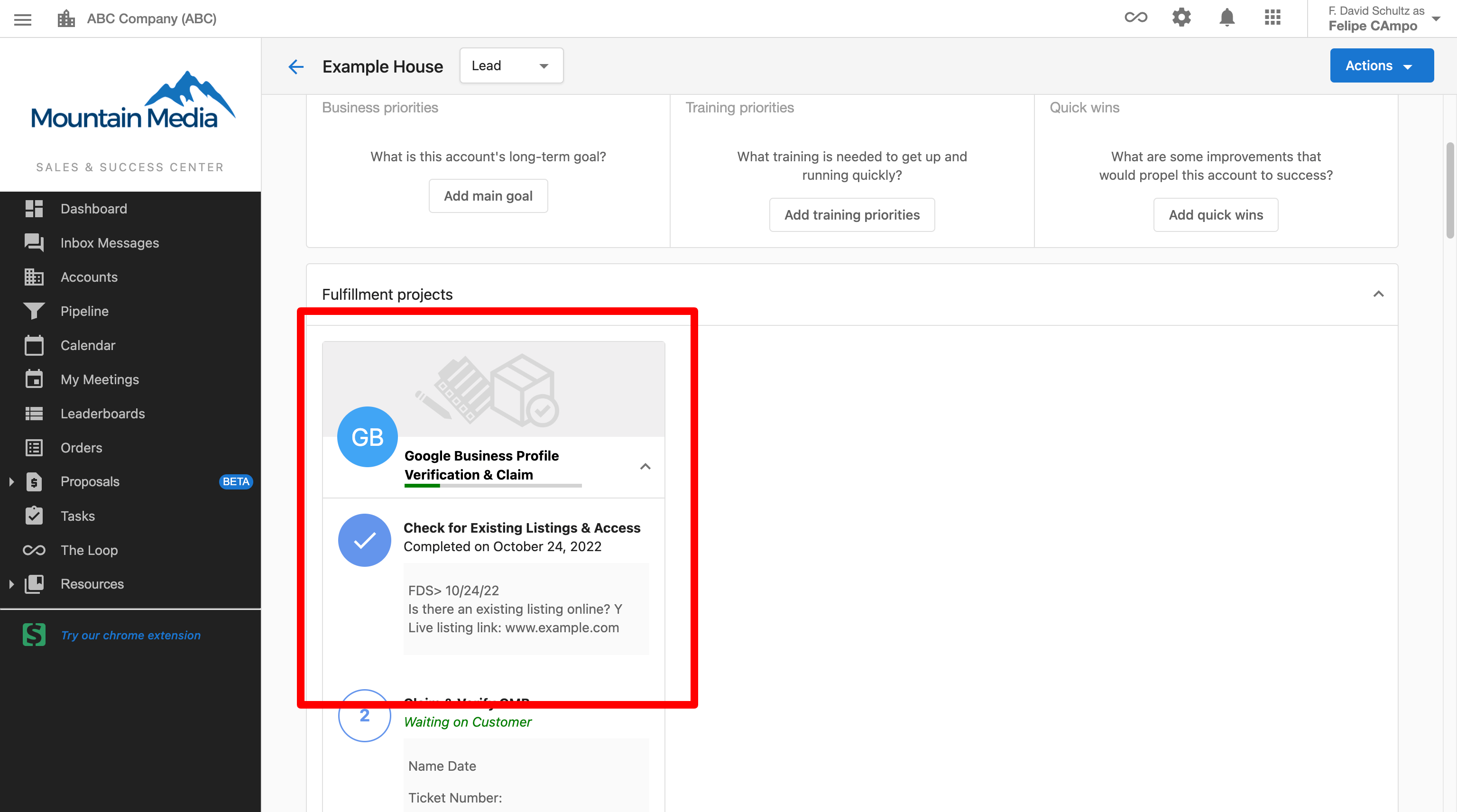 You can also find information by going into Task Manager > Projects. But note that some of this information may be "grayed out" or inaccessible because the project is being completed in Marketing Service's Task Manager account and a read-only version is being shared with you.