Note: This article was created to support the integration phase for Marketplace Vendors. If you're ready to get started as a vendor, we'd love to hear from you. Apply to join the Marketplace!
Getting Started
End to end project management is a key feature of the Vendasta platform. Projects provide full transparency between Vendors and their clients, giving the clients the ability to provide feedback and approve completed tasks from their own dashboard. Each persona gets their own view of an in-flight project.

How Does it work?
A Service Vendor builds a Fulfillment Project template and associates it with a sku they offer in the Marketplace.
The activation of this service triggers a project to generate in the Task Manager based on the template linked to the sku. The project allows for all parties to track progress for, and communicate about the fulfillment of the purchased service.
Table of Contents
Project Templates
Template Association
Toggle on Fulfillment Integration: Vendor Center > Select Product > Integration > Fulfillment Integration.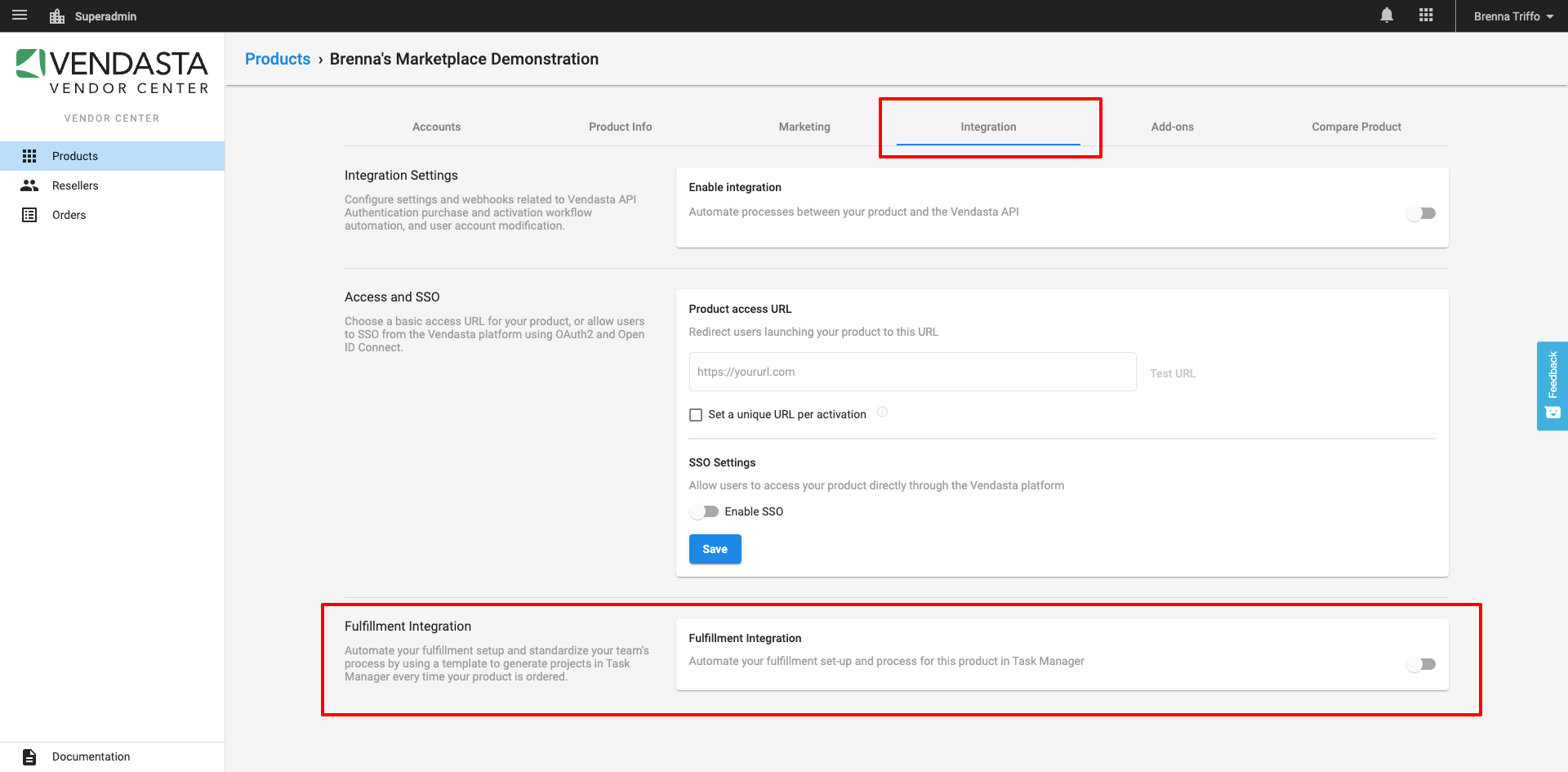 Once you have toggled this on for the sku, you will need to select a project template to link it to. If you don't have one already created, select Make a new template in Task Manager (from the bottom of the template selection dropdown), which will take you into Task Manager where you can build out your template(See Template Building section below).

A template may only be associated with a single sku at this time. You will not be able to associate a template with your product until your product is published.
You will need to select whose platform the project will populate in. There are two options:
Option 1: Create a project in my platform for my team to work on
Most Common for Service Vendors

The template will be created in your Task Manager. Your team is able to view the project and complete all corresponding tasks.
Option 2: Create a project in the reseller's platform for them to complete
The template will be created in the Reseller's Task Manager. They will be responsible for the fulfillment of the project.
IMPORTANT: If your service is reliant on, or is fulfilled by utilizing another Marketplace product
1. If your service leverages a Marketplace Product, and requires that product be active for you to be able to start your work
Ensure that the required product has been selected
Vendor Center > Select Product > Product Info > Product activation > Required products: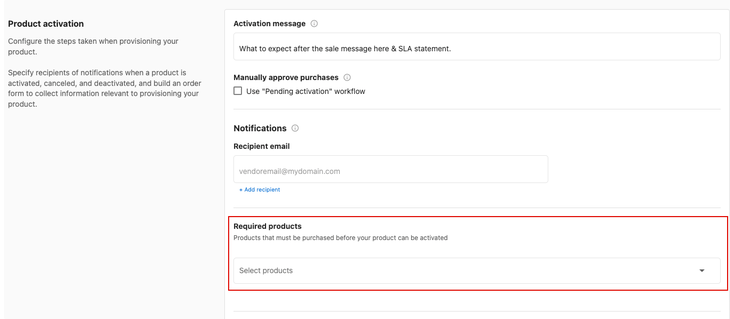 2. If your service is reliant on a Vendasta product AND involves responding to reviews, claiming, and filing listings, or reviewing mentions you can also choose to have system generated tasks created upon product activation. These are event-triggered tasks: Reviews, Mentions, Listings, and Google Q&A.
If your service is not this type of service, ignore this checkbox.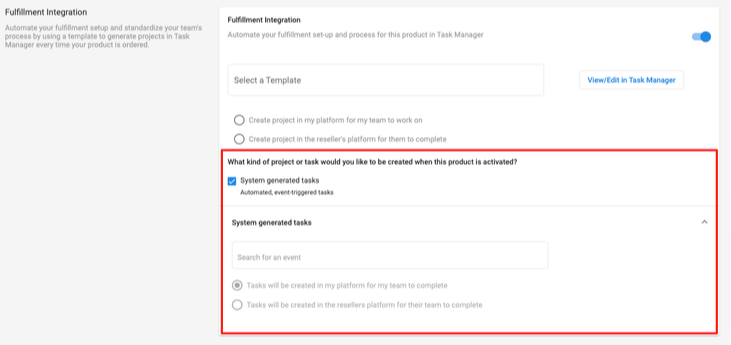 Template Building
If you would like to generate a template based on an example from our template library, you may choose to create a template from within Task Manager itself, which can be accessed via Partner Center > Tasks > Open Task Manager:
If you create a template from within Task Manager rather than via Vendor Center, don't forget to go back to Vendor Center to link the template to its matching product or service.
Task Manager > Templates > + Add New Template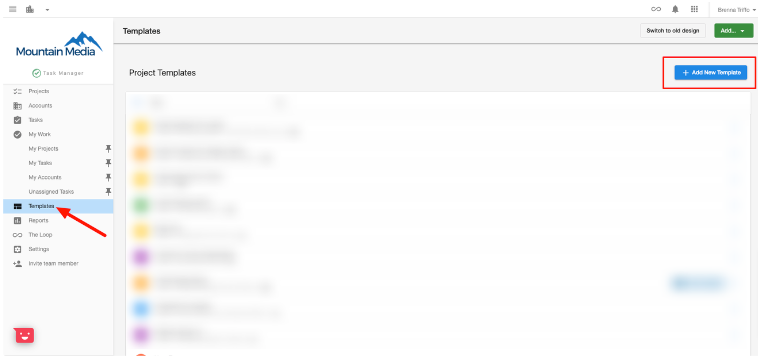 This will allow you to choose whether to explore the library or create a template from scratch
Editing a Template:
1. Enter the default project information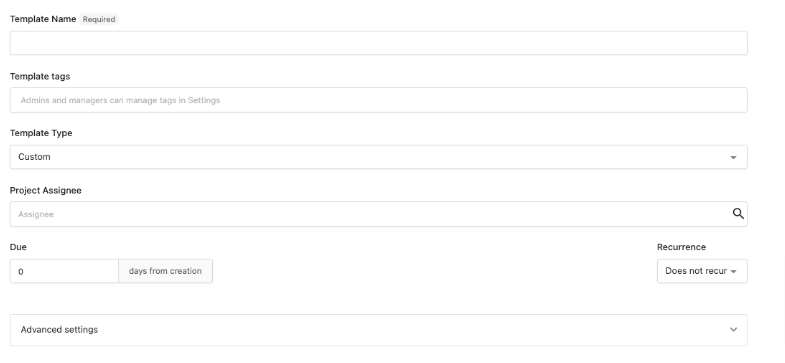 Note that once the project has been generated from a template, you are able to then customize any of these default values.
2. Adding Tasks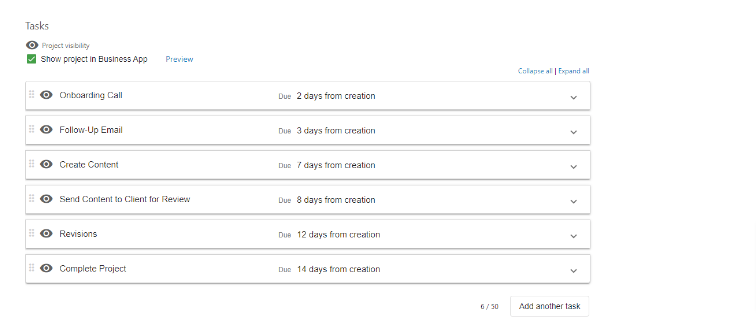 Tasks represent all the steps that need to be completed in order for the service to be completely fulfilled and any deliverables provided to the client.
Any Service being sold in the Marketplace must have its project and at least some of the project's tasks viewable from the client perspective.
Tasks > Project Visibility > Show Project in Business App
Tasks > Visibility > Show task in Business App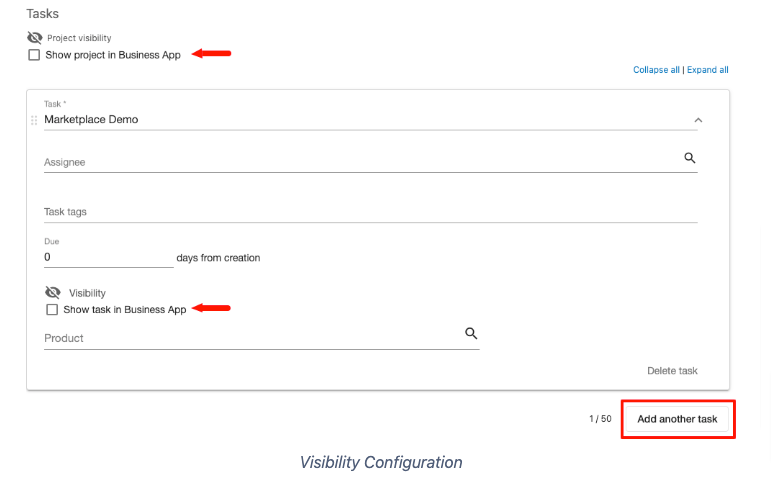 Once you've added in all your tasks (up to 50 tasks per project), click Create Template.
Client Communication
You can always communicate with your clients, and they with you at the project level, but if you want Reseller or End Business users to be able to communicate with you on specific task threads this must be configured per task once the project has been generate by an order for an Account:
Task Manager > Accounts > Select Account > Projects due next > Select project > Select a task that is viewable in Business App > Check off Business App users can approve and provide feedback for this task in Business App
Client View
In Business App, the Project page is found under the My Business section in the left navigation. Users can then communicate with you via Task threaded comments, or give approval on each task if you've configured that feature.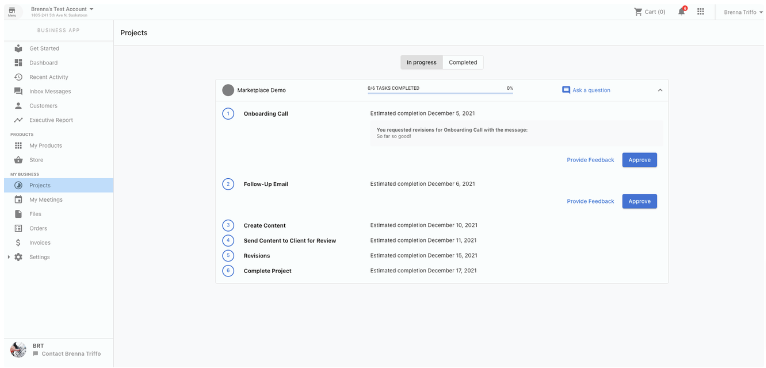 This also allows the client to send you files along with their comments:

You are then able to view and respond to this feedback in Task Manager.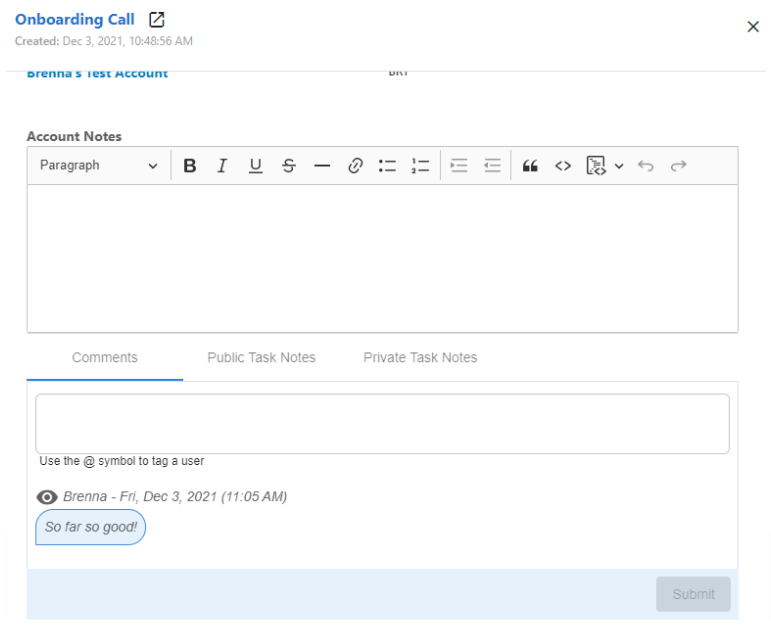 Reporting
If you currently provide a service completion report or any ongoing reporting to your clients, then this will now need to be provided via the Vendasta Platform.
Requirements
How do you natively deliver your reporting? Refer to available reporting types below for requirements.
Hosted Dashboard users log into

Requirements:

SSO into Dashboard & Executive Report Highlights

Hosted Semi Interactive Report - shared as a signed url(magic link)

Requirements:

SSO into Dashboard

Executive Report Highlights OR PDF File Upload

Emailed PDF Reports

Requirements:

PDF File Upload

Optionally - Executive Report highlights
Reporting Types
Single Sign On
If you have a hosted reporting dashboard that is accessed via a login, or shared via a signed url, then that must be accessed via SSO.
The Executive Report(API Integration)
Pull highlights from, or recreate your reporting in Vendasta's dynamic report that lives within the end user dashboard Business App. See supported card types here.
Suggested Maximum of 9 cards
File Uploads
File groups can be generated in two ways:
1. The Account Details page in Vendor Center. In this case, Vendasta hosts the file.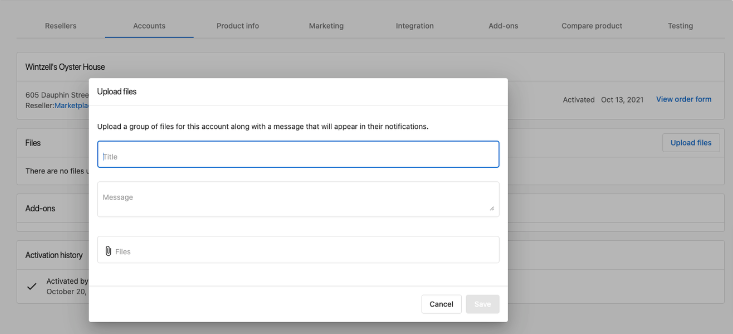 2. Automated upload via the Account File Group API. In this case the Vendor Hosts the file, and provides a link.
For either method file uploads will automatically send a message to the Activity Stream providing an alert that a new file is now available.
Final Walkthrough (Vendasta Testing Your Integration)
Once you have finished each task, then submit this task for review and approval in your project tracker by clicking Approve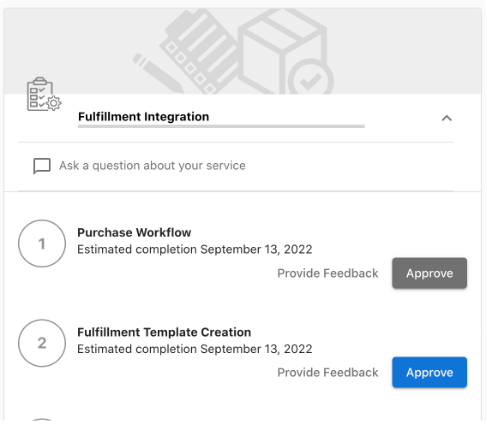 A Vendasta Vendor Operations team member will review your implementation and provide any feedback prior to marking the task as Complete