Partner Center Admins can monitor all social media connections through the Social Marketing Admin Dashboard.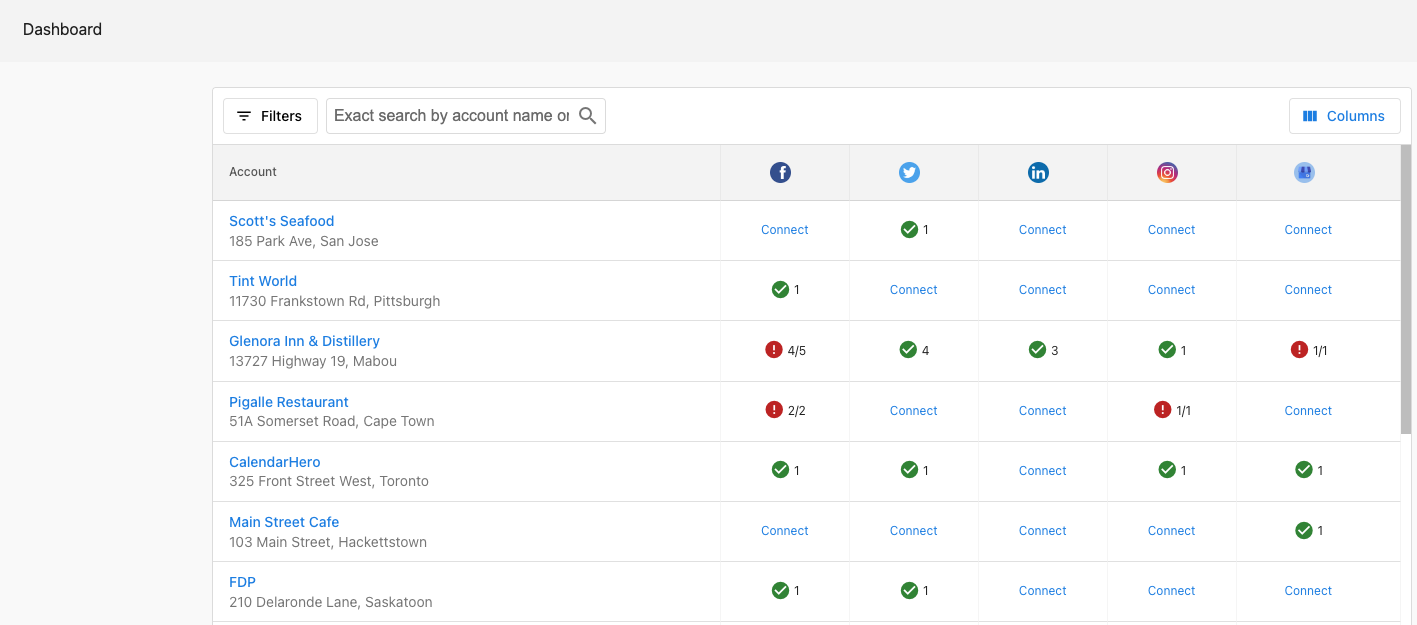 Through this dashboard, Partner Center Admins can see all accounts that have Social Marketing active, as well as the status of each account's Google Business Profile, Facebook, Instagram, X, and Linkedin connections.
At a glance, admins can identify connections that require their attention, see how many pages are connected, and click "Connect" to take them directly to the product. This dashboard makes monitoring connections more efficient by allowing admins to see details for all of their accounts. This eliminates the manual toil of navigating through individual accounts.
What's available on the dashboard?
On the dashboard, you will see a list of accounts with the Social Marketing product active and five columns: Google Business Profile, Facebook, Instagram, X, and Linkedin.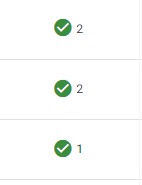 The green check mark represents successfully connected accounts, and the number next to it represents the number of accounts connected. For example, in Social Marketing Pro you can have multiple Facebook pages connected.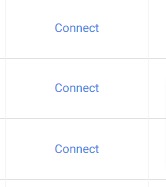 Clicking "Connect" will take you to Social Marketing > Settings > Connect Accounts where you can add any missing social accounts: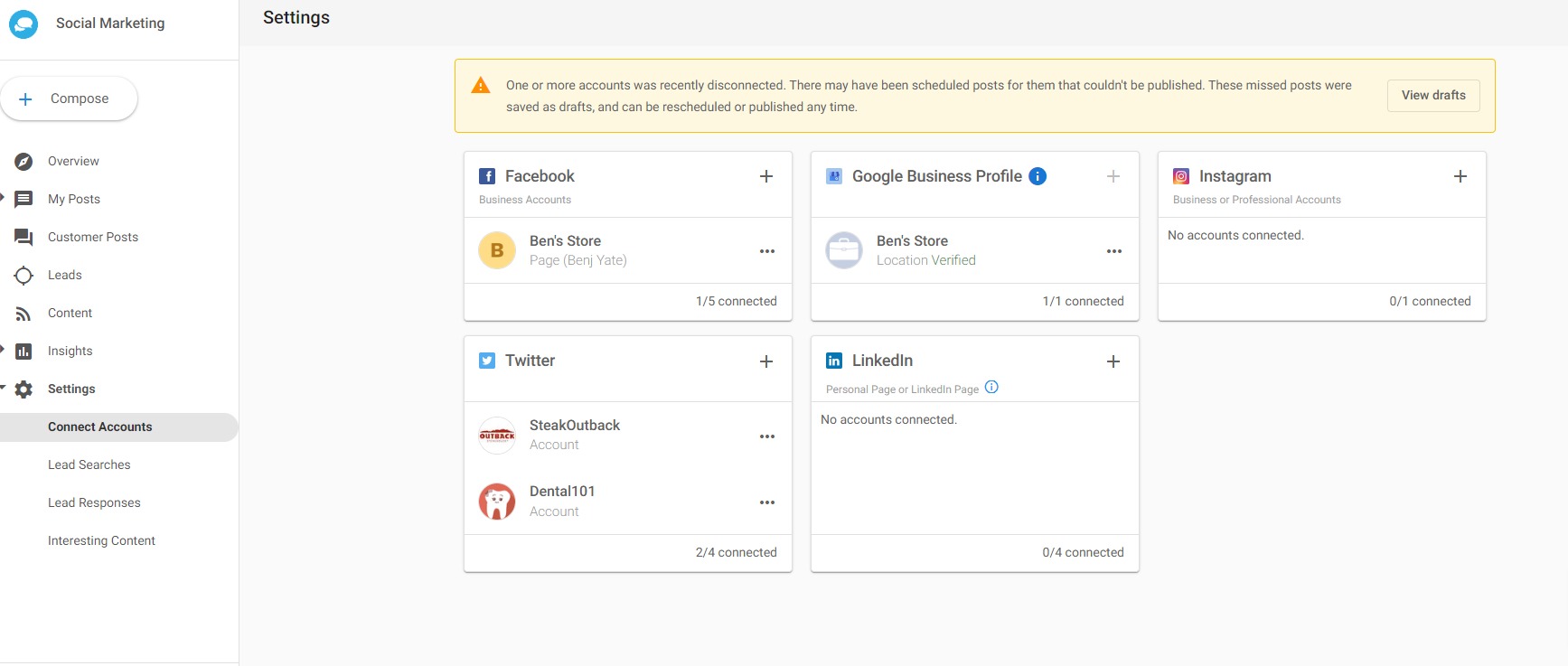 Note: Social accounts that are connected to the Social Marketing product will also sync to your other products that need connections! For example, if you have a Facebook page connected to Social Marketing, it will automatically appear connected in Reputation Management > Settings > Connect accounts. No need to connect your accounts in all your products individually!
If a connection is expired, you will see a red icon with an exclamation point: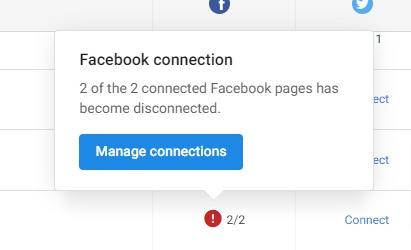 Clicking the red circle will display a pop-up window that directs you to Social Marketing > Settings > Connect Accounts, allowing you to re-connect your expired or disconnected social accounts.
You can also use the Columns button to control what sources you see: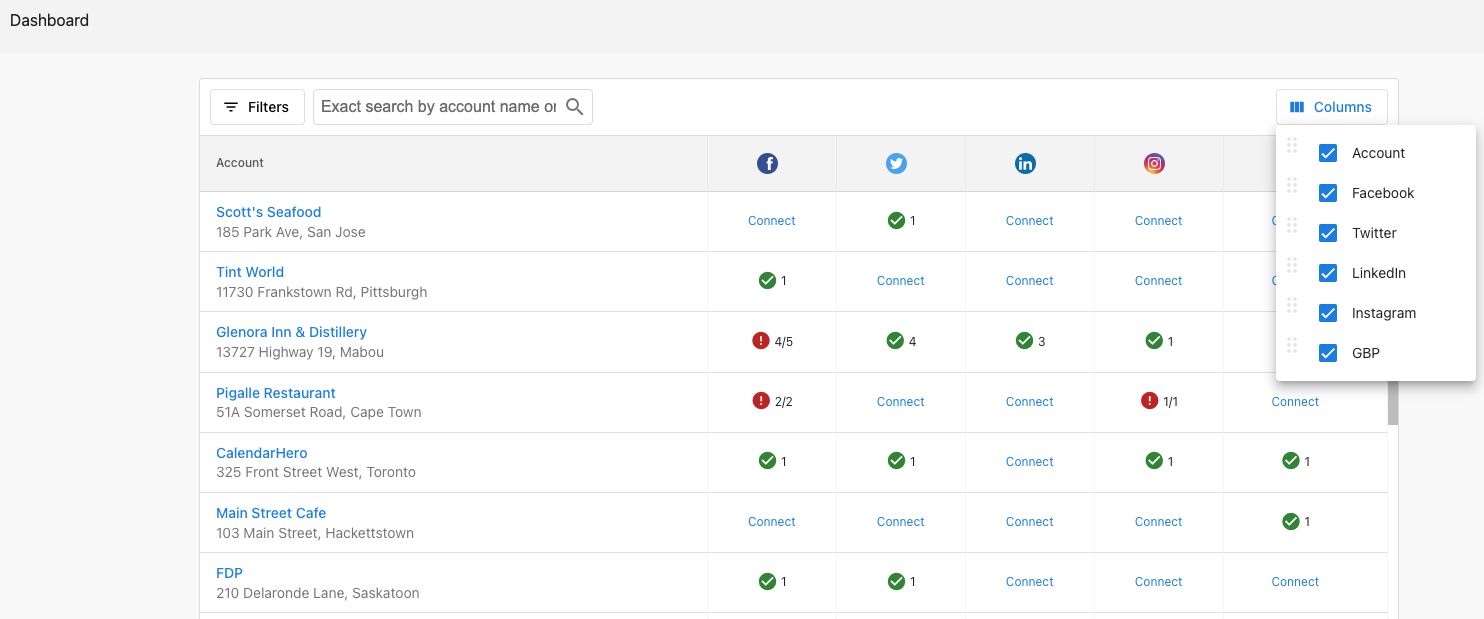 How do you access the dashboard?
The Social Marketing Admin dashboard is available only to Admins, therefore, you can only access the Dashboard through Partner Center.
In Partner Center, head to the Marketplace tab > Products > click on the Social Marketing product > In the top right-hand corner you will see a blue button for "Admin Dashboard."