Inbox in the Vendasta platform brings communication to all users of the platform ecosystem, allowing for org-to-org communication between channel partners, SMB accounts, vendors and Vendasta account managers.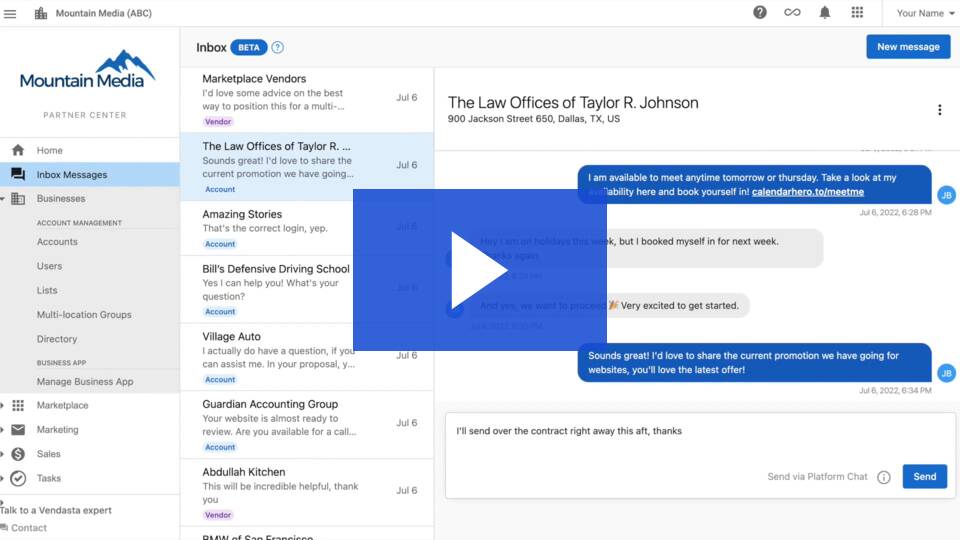 This article explores what Inbox can do within the Vendasta platform (Partner Center, Vendor Center, Task Manager and Sales Center) and how they work to help you super-serve your customers.
For users of Inbox in Business App, a paid upgrade is available that helps local businesses capture new leads, and communicate with their customers via SMS, Google Business Message, Web Chat and more. Learn more about Inbox Pro here.
How to use Inbox
To access messages, navigate to the top right corner of Partner Center, and within the navigation bar, click Messages. Inbox will open in a side-panel that will stay open as you navigate around the platform.
Send a message
To send a message to users of an account, click the blue [+] New Message button, and choose an account. You can also send a message from an account's details page, under Manage Accounts.
To send a message to your account manager, click Talk to a Vendasta Expert in the bottom left nav menu of the platform, then Send message (if available on your subscription.)
To send a message to a product or service vendor, click "Message Us" on their product details page under Marketplace. If that vendor accepts Inbox messages, an Inbox conversation will be created between you and them.
Notifications
When a message is sent through Inbox in the platform, all users at the receiving organization will receive a notification if they have Inbox messages notifications enabled.
Notification preferences are set per user within Partner Center: Each user can click the notification bell in the top right of the platform to configure their notification settings.
To only be notified about messages from certain customers, you can add them to your following list, using these instructions here.
Users of an account, and users at a vendor will also receive notifications when you message them.
For additional information about Reseller Notifications, please refer to this guide.
Automations
Automation triggers and actions are available to work with Inbox, so you can start workflows when a message comes in, or send a message automatically when an event happens. Learn about Inbox-related automation triggers and actions, here.
Inbox in Partner Center – Features
Inbox in Partner Center is in-platform chat that helps you build relationships with your accounts, vendors, and Vendasta. Conversations are between organizations, and open for everyone on your team to participate in, so everyone stays on the same page, working towards a common goal.
Features:
Unlimited in-platform messaging
Inbox can be opened as a side-panel that stays with you no matter what page you're on
Users can be notified with in-platform notifications and email notifications.

File sharing
Available workflows:
Message with clients. Messages are sent and received in Business App, where your clients users can communicate with your team.
Message with Vendors (including Vendasta's Marketing Services) to ask questions about their services before you buy, get updates, and communicate about projects in progress.

To message a vendor for pre-sale questions, find a product or service in Marketplace > Discover Products, and click 'Contact Us' from the product page.
To message a vendor that is fulfilling one of your products, find the project being fulfilled on either the Projects page, or the account details page, and click the Message button to create an inbox conversation with the fulfilling vendor.

Message with your account manager at Vendasta. To message your Account Manager, click their contact card in the bottom left of Partner Center navigation, and select "Send Message".
Inbox in Business App
Inbox in Business App allows your clients to communicate with you, and is included with every account at no additional cost. You can control if you want your clients to be able to message you and your team, with Business App customization settings.
Also available: Inbox Pro paid upgrade
With Inbox Pro, a business can capture leads and customer communication inside of Business App as well, using web chat, SMS messaging, Google Business Messaging, and more.  Learn about Inbox Pro, here.
Inbox in Vendor Center
Inbox in Vendor Center is an excellent way for Vendors and Channel Partners to work together. Vendors can communicate directly with resellers of their products and services for both pre and post-sales communication.