The Review Grade is a letter grade given to your clients' businesses to evaluate their online review presence. The Review Grade is currently used in our Sales intelligence report, Snapshot Report, to evaluate the business's online reputation before partnering with your company.
Introducing the Review Grade to the Executive Report enhances reporting transparency for your clients and shows proof of performance over time.
Recommended Reading: Know Exactly How to Improve Your Clients' Reputations with the Review Grade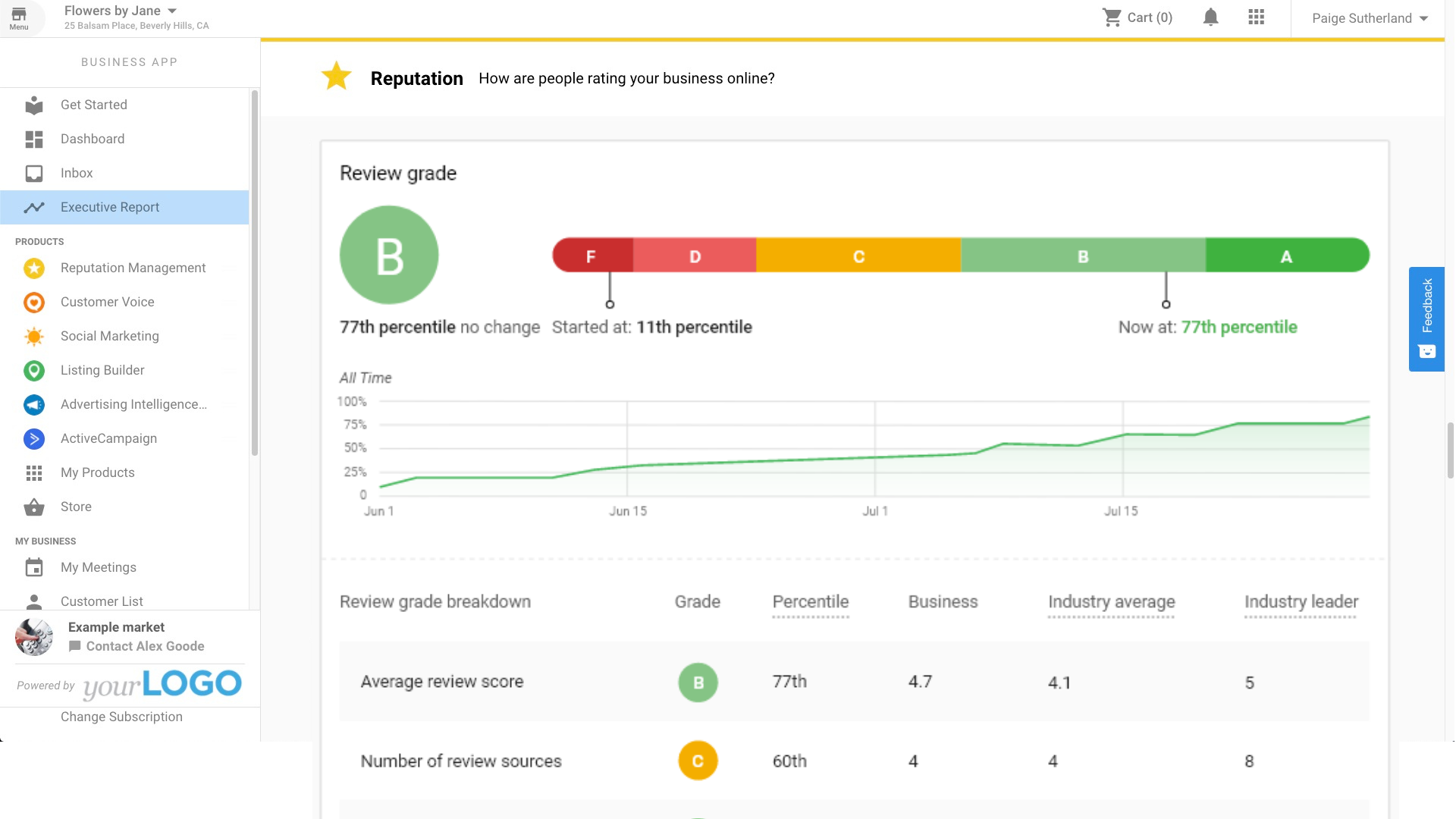 How is the Review Grade calculated?
The Review Grade is calculated based on the business' performance in four categories:
Average review score

Number of review sources

Reviews found

Number of reviews found per month
Scores in the four categories are then combined and compared to the industry average to get the final letter grade using this percentile grading system:
A

= 90 - 100th percentile

B

= 75 - 89th percentile

C

= 50 - 74th percentile

D

= 30 - 49th percentile

F

= 0 - 29th percentile
For example, if a business has an average review score of 3.5. This puts the business in the 10th percentile compared to the industry average (4.32) and industry leader (5). This category receives an F. The same calculations are done for the other three categories and a combined score results in a Review Grade of C.
The Review Grade is turned on by default.
How do I disable the Review Grade?
We do not recommend disabling the Review Grade from your clients' Executive Reports, however, you may do so from a setting in Partner Center.
Follow these steps if you'd like to turn off the Review Grade for all markets (if applicable):
1. Log in to Partner Center > Administration > Customize
2. Click Business App Settings to open the dropdown
3. Uncheck the box beside Show Review Grade Card in Executive Report for SMBs.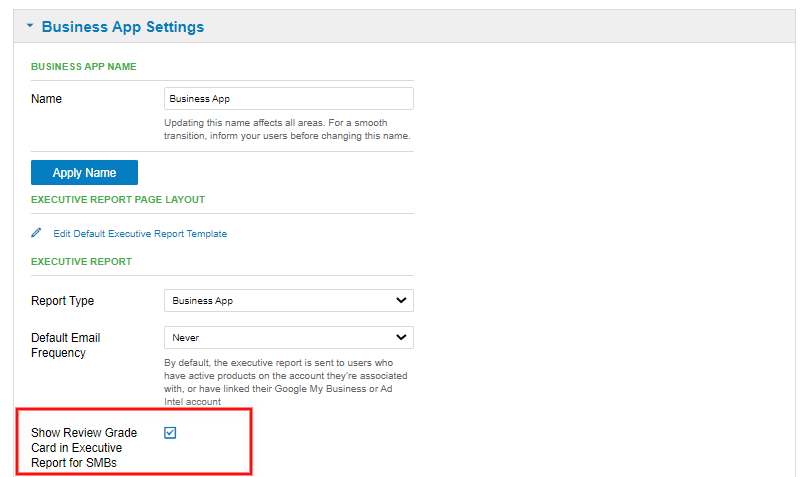 All markets will abide by these Partner settings. If you wish to enable the Review Grade for select markets, follow the steps below, but ensure the setting is set to Enable (step 5).
Follow these steps if you'd like to turn off the Review Grade for select markets:
1. Log in to Partner Center > Administration > Customize
2. Click the tab 'Markets'
3. Click the pencil icon beside the market you wish to customize
4. Click Business App Settings to open the dropdown
5. Show Review Grade Card in Executive Report for SMBs > select Disable