To begin accepting credit card payments via invoices and the Shopping Cart, Partners will need to set up Vendasta Payments. You can also check out our video guide: Getting Started: Collect payments in-platform.
Vendasta Payments is currently available to partners operating in one or more of the following currencies:
Canadian Dollar (CAD)

US Dollar (USD)

Australian Dollar (AUD)

Great British Pound (GBP)

New Zealand Dollar (NZD)

Czech koruna (CZK)
Table of Contents
Set up contact and payment information in
My Billing
Partners can access and update information relevant to their billing relationship with Vendasta in Partner Center > Administration > My Billing. The following settings must be properly configured in order to be billed the wholesale costs associated with activating products and services.
Billing Contact

Payment Method

Partners who are currently billed by Vendasta via invoice do not need to add a credit card as a payment method.
Set up account information in
Vendasta Payments
Before beginning the setup process, partners must review and agree to the additional Terms of Service associated with using Vendasta Payments.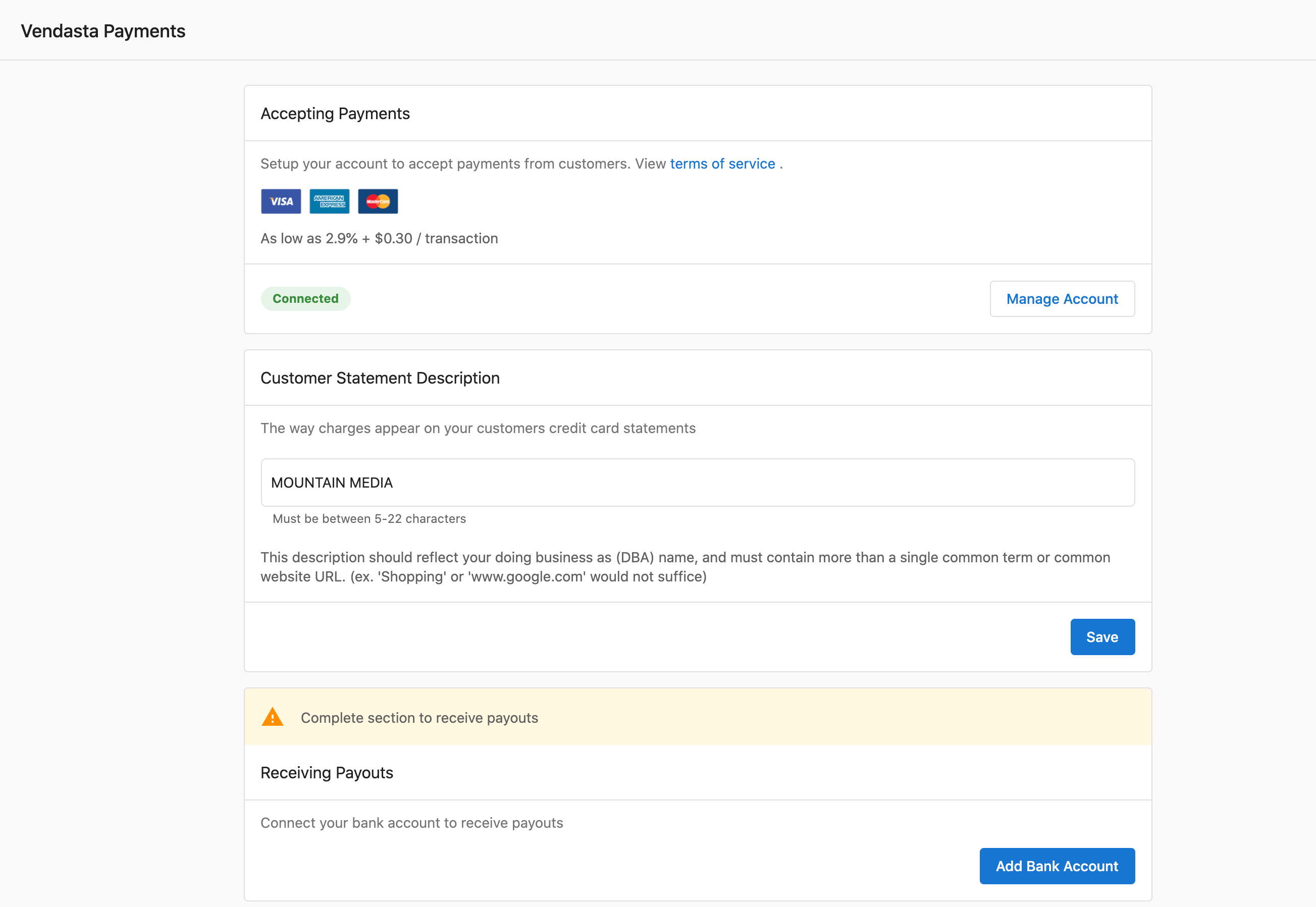 To receive credit card payments through the Vendasta platform, partners must create a Stripe account (used to receive payments) and add one or more bank accounts (used to receive payouts from Stripe).
Vendasta Payments can currently accept payments from Visa, Mastercard, American Express, and Discover credit cards.
Accept online payments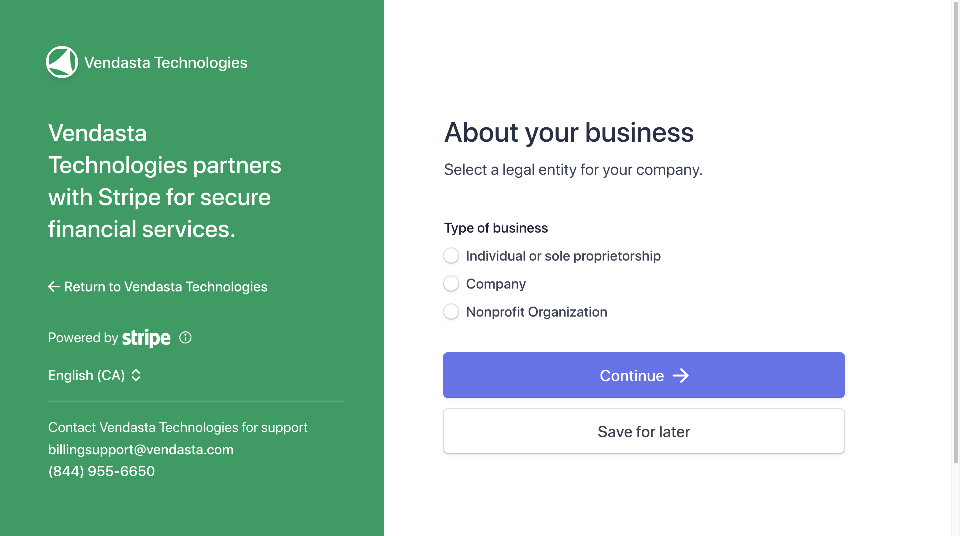 By default, the currency that you accept for online payments is the currency that you use in your billing relationship with Vendasta (your contract currency).
Go to Partner Center > Administration > Vendasta Payments and click Set up Vendasta Payments to create your Stripe account.
Note that currently, you cannot connect a preexisting Stripe account to Vendasta Payments—the Stripe account that you use with Vendasta Payments must be created by following the method detailed below.
The following information is required to create your Stripe account:
Your legal business name

The name you provide must exactly match the name associated with your tax ID

Business Number

For US companies, enter your

Employer Identification Number (EIN). For Canadian companies, enter your Canada Revenue Agency (CRA) Business Number.

Learn more.

The operating name of your company, if it's different than the legal name (your "Doing business as" name)

A registered business address, or a home address (if you don't have a business address)

An account representative

Legal name

Home address

ID verification

Full Social Security number (if located in the U.S.), and

Government-issued ID (verify through the picture on webcam, picture on phone, or upload a file)
Payments that you have received will be displayed under the Partner Center > Billing > Payments tab.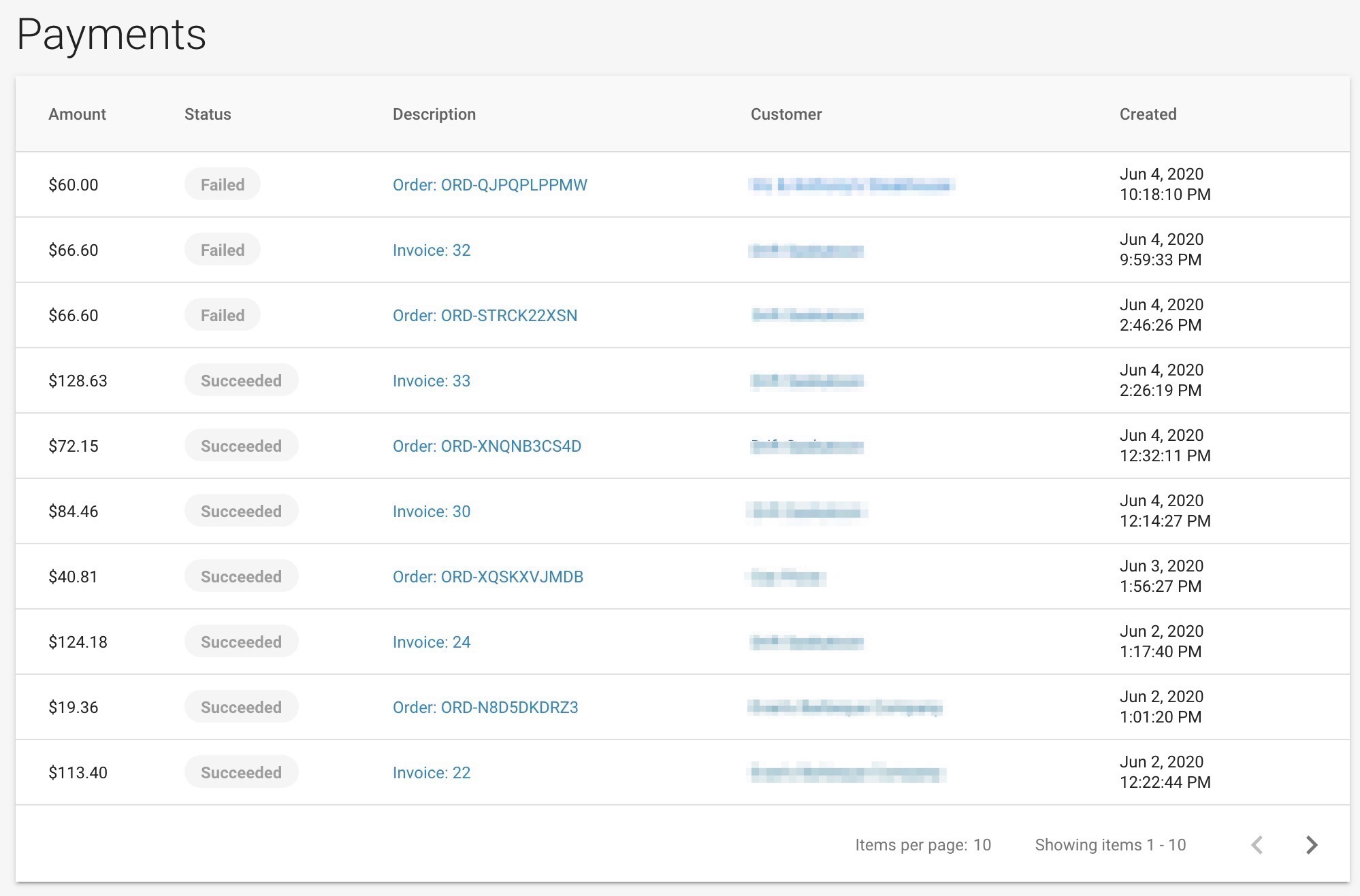 After your first payment has been received, Stripe will hold the payments you receive for up to a week. At the end of this period, Stripe will begin paying out a portion of the balance you've accumulated, on a 7-day rolling basis, into the bank account that you add in the Receive payouts section.
If payment has failed, partners can hover their cursor over the ⓘ Information icon next to the status for more information.
Transaction fees
Each transaction processed via Vendasta Payments is subject to a fee of 2.9% + $0.30 per transaction. Transaction fees are automatically deducted after payment has been collected.
Customer statement description
Banks and card networks require certain types of information to be included when a charge or payment is made in order to help customers understand their statements. Your statement descriptor helps customers to attribute charges or payments on their bank statements to your business. Most banks will display statement descriptors consistently, but some may display it incorrectly or not at all. Using a clear, accurate, and recognizable statement descriptor reduces the likelihood of chargebacks and disputes, as it helps your customers to remember where a particular charge or payment originated from.
Your customer statement descriptor must meet the following requirements:
Contains between 5 and 22 characters, inclusive
Contains at least one letter
Does not contain any of the special characters, i.e. < > \ ' " *.
Reflects your doing business as (DBA) name
Contains more than a single common term or common website URL. A website URL only is acceptable if it provides a clear and accurate description of a transaction on a customer's statement.
Receive payouts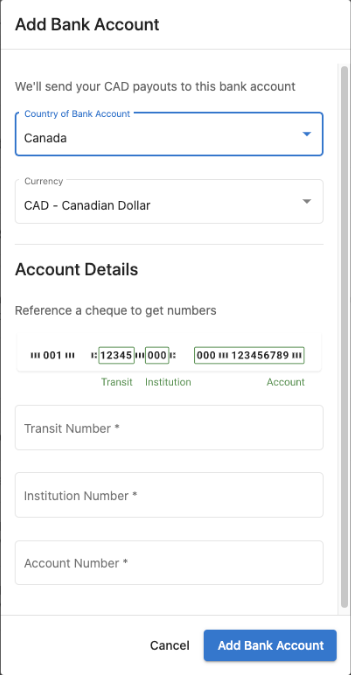 To receive payouts, partners must add a bank account by clicking Add bank account and entering the following information:
The country in which you do your banking

The currency of the bank account

The identifying numbers of the bank account that will receive payouts (i.e. routing number and account number (US) or the transit number, institution number, and account number (CAD))
If necessary, partners can add more than one bank account in the same currency. Partners using Markets to offer more than one Public Store (i.e. a Public Store for Market 1 with a currency set to CAD and a separate Public Store for Market 2 with a currency set in USD) can add one or more bank accounts for each of the two currencies currently supported by Vendasta Payments—payments collected will be paid out to bank accounts in the corresponding currency by default. If a bank account in only one currency exists, all payments will be paid out in the same currency as the account.
By default, the first bank account added for a given currency will be set as the Default account to receive payouts. To make a different bank account the Default account for receiving payouts, click the Options ⋮ menu on the chosen bank account and select Set Default.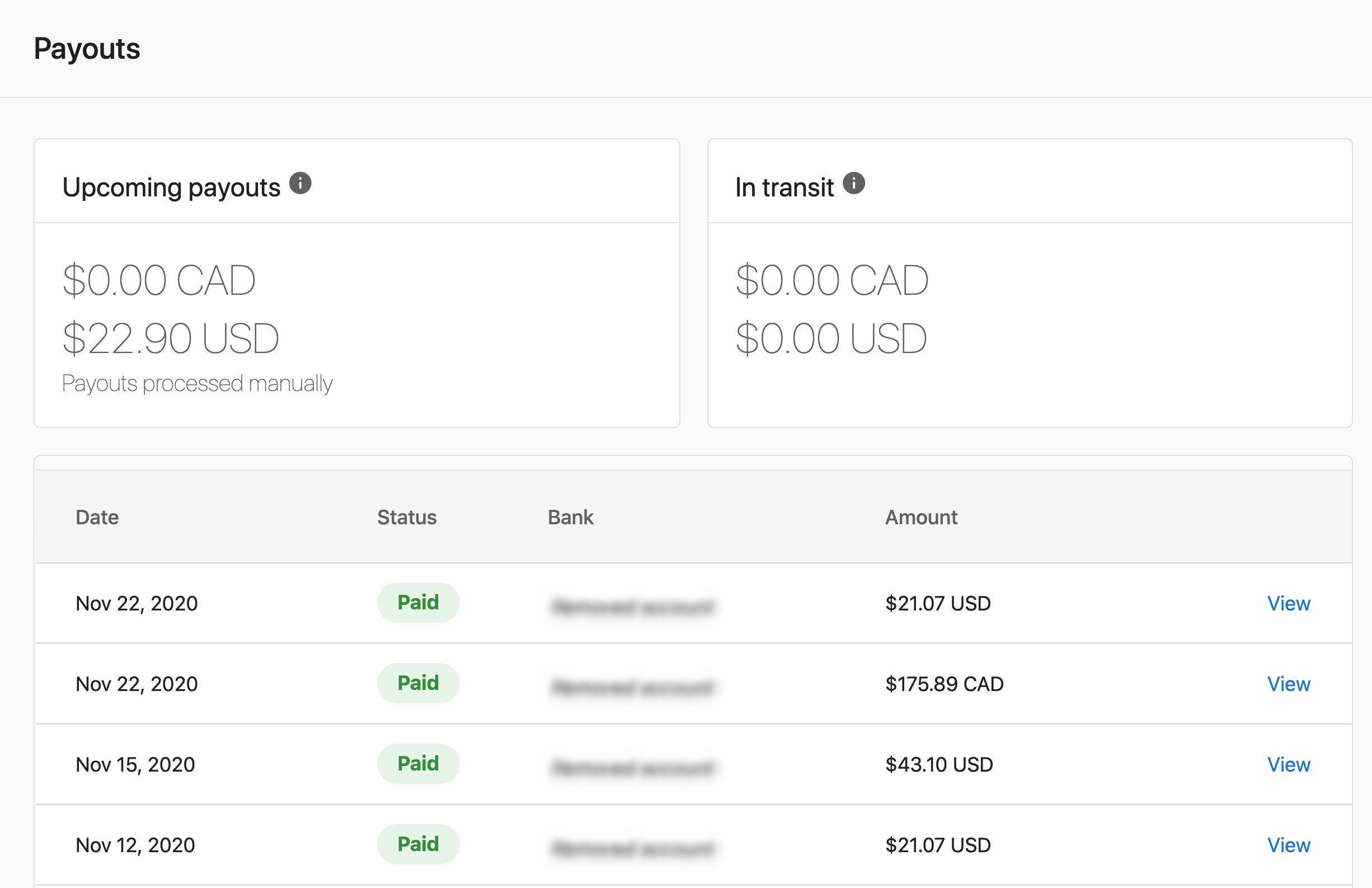 Payouts can be viewed and managed by clicking the View Payouts button in Partner Center > Administration > Vendasta Payments. Here you can view the current balance of payments waiting to be paid out, as well as the amount, status, and arrival date of individual payouts.
If a payout has failed, partners can hover their cursor over the ⓘ Information icon next to the status for more information.
Changing your Payout currency
When changing to a new currency, you'll need to disconnect your Stripe and reconnect using the currency that you'd like to use. This will delete any payout history you currently have, so we recommend downloading any financial data that you'd like to keep prior to disconnecting/connecting a new currency.
Also note, the supported payout currency is dependent upon your business' location, which is the address used in your billing relationship with Vendasta. However, if you only have a bank account in one currency connected, you can use Markets in any of these currencies. Stripe will convert payments to your currency to be paid out to your connected bank account. This is possible as long as the country you do business in supports those bank accounts. When changing to new currencies there are supported settlement currencies for each currency that you choose, meaning there are certain currencies that you can settle in. Learn more about supported settlement currencies.
Customer-facing Terms of Service for payment processing
We recommend that all partners using Vendasta Payments to accept credit card payments via the Shopping Cart and/or invoices add the following paragraph to their customer-facing Terms of Service to reflect the nature of payment processing services conducted using Stripe:
You acknowledge and agree that [partner name] uses a third-party payments services provider (Payment Processor) to process your payments and that Payment Processor acts as limited payments agent on behalf of [partner name] for the sole purpose of receiving, holding, and settling payments from you to [partner name] on [partner name]'s behalf. Upon receipt of funds from you by Payment Processor (including payments received by third-party service providers on behalf of Payment Processor), your obligation to pay [partner name] for amounts invoiced in the amount of your payment is extinguished, and in the event that Payment Processor does not settle any such payment to [partner name], [partner name] will have recourse only against Payment Processor and not you, as your payment is deemed made by to [partner name] upon receipt by Payment Processor (including upon receipt by third-party service providers on behalf of Payment Processor).
Information on how to surface custom Terms of Service information in the Shopping Cart checkout process can be found here.