While we always hope clients will be happy with a purchase, we understand that there are times when issuing refunds is necessary. There are a few steps to this process:
How do I submit a refund request for my client?
Your first step should be to contact billingsupport@vendasta.com. In this email, include as much information as you can. In particular, we will need the following information:
Is this only a refund for your client, or are you also requesting a refund from Vendasta?
What is the reason for the refund request?
Which account(s) is this for?
What amount are you looking to have refunded?
If approved, what email address would you like the client's refund receipt to be sent to?

The receipt will be sent directly from Stripe and does not contain any Vendasta branding, so you can request to have these sent to either yourself or your client.
In addition to the above information, the following can help expedite the refund request:
Do you have either the invoice number or order ID?

The invoice number can be found by browsing Partner Center > Billing > Invoices.
The order ID can be found by browsing Partner Center > Sales > Orders

Alternatively, you can see all orders for an account via Partner Center > Businesses > Accounts > Account name > Orders.
Please be aware that by excluding details, a Vendasta representative may need to reach out to you, and the refund process may be delayed.
How does the refund process work?
Once we've received your request, our teams will begin working on the refund. If this is only for your client, we'll work to refund them. If you are also requesting a refund for yourself, our finance team will review your request, and you'll be informed when/if the refund has been approved.
After the client has been refunded, a receipt will be sent to the recipient specified in your refund request.
Note: Requests for refunds to your clients do not guarantee the deactivation of any products. Please ensure that you deactivate the product or products on the account to prevent any additional charges.
What does the receipt look like?
Please be aware that sensitive information has been blurred.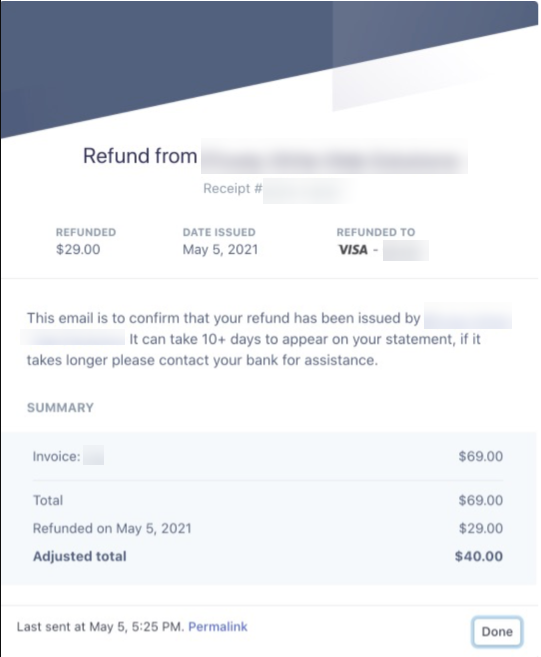 What happens to the transaction fee?
Transaction fees paid as part of the ordering process will not be refunded.