Reputation Management Standard and Pro will detect when the content/star rating on a review from Facebook or Google has been edited by the reviewer. A notification will appear in Reputation Management when either a star rating or material content has been edited in a review so the user can take necessary action.
Why is it important?
Reputation Management is your clients' source of truth for managing their online reputations. When changes occur to their online reviews, Reputation Management should update to reflect those changes and alert the user to these changes so they can take action.
Notifying the user when a review has been edited allows them to update their response if necessary. 
How does it work?
1. Upon login to Reputation Management, the user will see a banner on the Overview page notifying them that the system detects a review has been edited.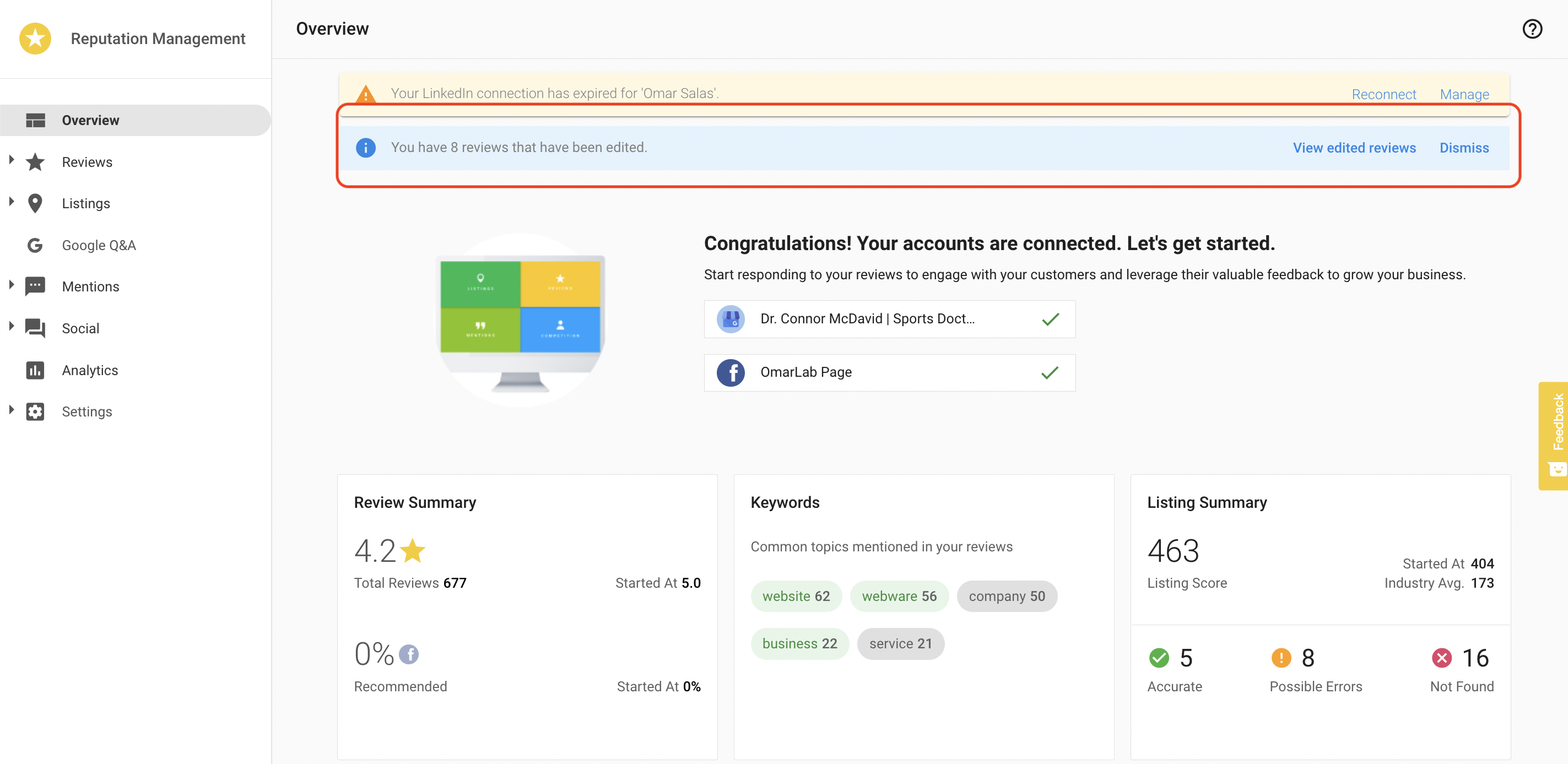 2. Click View edited reviews to be taken to that review on the Reviews page. Users can also select the "edited" filter on the Reviews page to see the reviews that have been edited.
3. Once the user has confirmed that the review has been edited, the user will be able to respond to that review. Edited reviews will be marked with an "Edited" badge.
4. Click the pencil icon beside the response to make a change to the review response if required.
Note: edited reviews now have a timestamp that includes when the review was originally submitted and when the review was edited. Edited reviews will be marked with an "Edited" badge and appear in the order they were edited. 
All users on an account will automatically have Instant Notifications and Daily Digest emails turned on. To adjust those settings, follow these steps:
1. Go to Partner Center > Manage Accounts > Account
2. Scroll to find Users >  Click the 

  beside the name of the User > Edit Notifications
3. Uncheck the notifications/emails you wish to turn off
What review sources will be monitored?
The following sources are currently being monitored for edited reviews in Reputation Management Standard and Pro accounts: