Partner Center admins of Listing Builder can deactivate a canceled Listing Distribution or Listing Sync Pro add-on that is under a contract and has not yet expired.
The syndication services with the aggregator will terminate, and the Partner will continue to be billed until the end of the commitment. This deactivation ensures clients with overdue payments will not benefit from unpaid services.
How does it work?
In

Partner Center > Businesses, select the appropriate account.

On the account details page, under "

Products"

find the canceled add-on you want to deactivate.

Next to the add-on, click > Force Deactivation.

In the pop-up, select "

Deactivate Now"

to proceed with the action.
Forcing deactivation will result in the add-on being removed from Partner Center and syndication services ending. As a Partner, you will be billed until the end of the commitment.
This feature will not be visible for active (as in not yet canceled) Listing Distribution and Listing Sync Pro products and is not available for any other Marketplace product or add-on.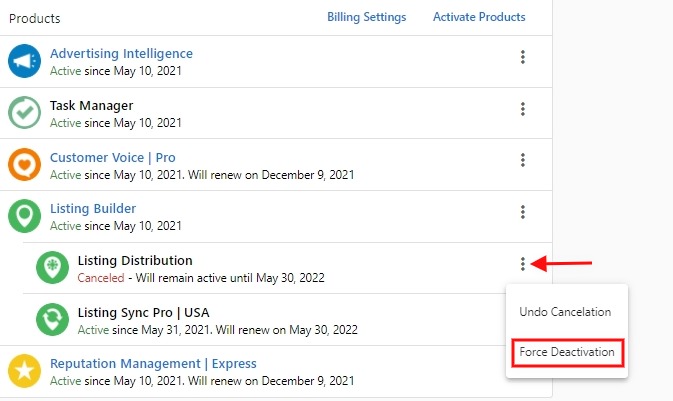 This feature is available to all Partners using Listing Sync Pro and Listing Distribution.